"We offer something that reaches people at a cellular level"
Located in Valtimo, Puukarin Pysäkki is a guesthouse and sustainable travel company that has had a deep-seated desire for sustainable development from the very start. The environmental impact of the business has been carefully considered and the burden on the local habitat is kept to a minimum. Organic food and ingredients from their own fields and the surrounding nature are at the heart of the Puukarin Pysäkki kitchen. Their ecological principles are also apparent in small everyday actions, such as composting, waste recycling and the use of environmentally friendly cleaning products.
Anita and Heikki Ovaskainen built the guesthouse next to their organic farm between 1990 and 1991. Anni Korhonen then followed her parents' footsteps in 2012, when the buildings, woodland, livestock and machinery were all passed onto the next generation. Anni is well known for her easy going and sunny personality. Her values, vision and ideology play an important role in the ongoing development of the guesthouse business.
Puukarin Pysäkki is a member of ECEAT (European Centre for Ecological and Agricultural Tourism) Finland and has a Sustainable Travel Finland badge.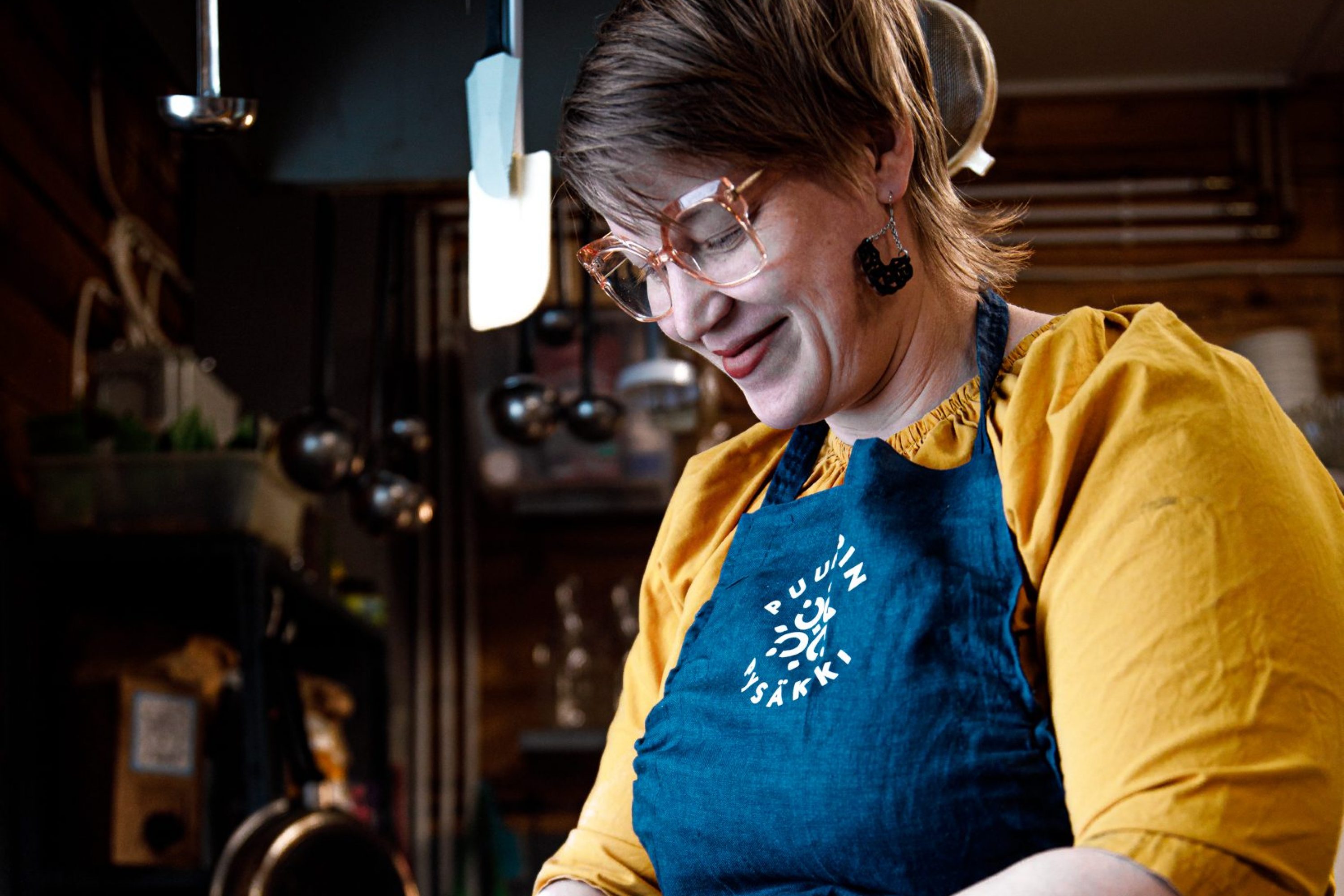 Distinctly Karelian
Anni Korhonen became familiar with the travel industry from an early age, when she and her siblings helped run the guesthouse. Although Anni moved away from Valtimo for a while to study hospitality management, she returned to her childhood setting at 29 with the intention of buying her parents' estate.
– Because I was raised in an environment where sustainable values were important, it has always been obvious to me that you need to think of the world as a whole. Seeing the whole picture is the cornerstone of sustainability – you need to understand the context and how things relate to everything else. No-one or nothing can survive without another.
– My father illustrated this by starting every business presentation by saying, that our main product is dung. He wanted to express how important compost is for the guesthouse and for food production – without manure there would be no food on the table, and this is what he wanted to make clear to the customer, Anni recalls with a grin.
Having a distinct identity has been important to Puukarin Pysäkki from the beginning, in addition to sustainability. The owner of the guesthouse believes it is important for people to feel that they can be themselves, without any roles. Guests can just come as they are.
– A Karelian treasure is our instinct to accept all kinds of people with open arms. We get a lot of foreign guests from all around the world, people from the LGBTQ community and others. I have not felt the need to highlight our open mindedness, because for Puukarin Pysäkki, everyone is always welcome, Anni emphasizes.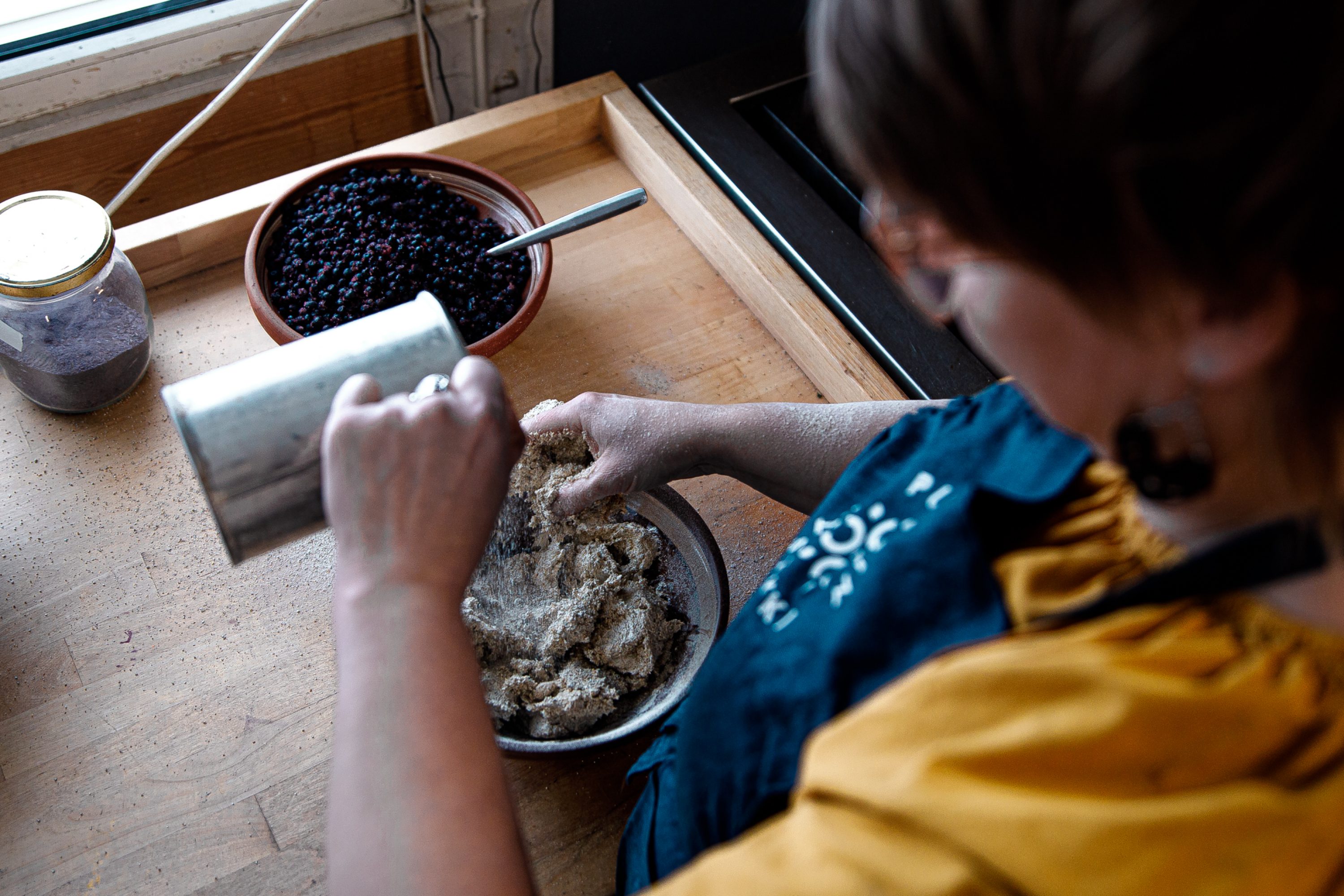 A cellar packed with the gifts of nature
Puukarin Pysäkki invests in self- sufficiency. Rye for traditionally baked breads is harvested from the 25-hectare organic field. The guesthouse has an excellent cellar for storing ingredients. The hostess processes the meats herself, and from the surrounding land she gathers everything that nature provides. The storage of berries and mushrooms is carefully considered to make sure as much as possible can be packed on the shelves.
– I'm a bit of a hoarder in the sense that I like to store many different things for a rainy day. I've had to search for information, gain experience and learn new crafts to fully
make use of everything that nature provides, and to get that food onto plates. This is the organic food that we feed to our guests, Anni says.
The distinct identity of Puukarin Pysäkki is also about traditionally made food. A meal stewed in the residual heat of a traditional baking oven is served as an assortment of
small dishes, to be shared between everyone at the table. The guests don't get to choose the menu. The important thing is spending time together and respecting the food – you come for the meal, socialise with other guests and enjoy delicious flavours. At first the hostess will tell guests about the origins of the meal, how it was prepared and how the food was harvested from the fields and woodland before arriving on their plates. Different seasonal foods and ingredients make an appearance at the table at different times of the year.
– Because the portions are large, our most clued-up guests wonder if any gets thrown away – is some of the food wasted? I always answer that we have a good system in place, that the children will finish anything left over by the guests.
– I went over to a couple last summer and noticed they'd eaten all the food I'd served. I impulsively joked, "Oh no, you didn't leave anything for the children!" The guests clearly panicked and said how sorry they were. Oh, how terrible I was, Anni laughs.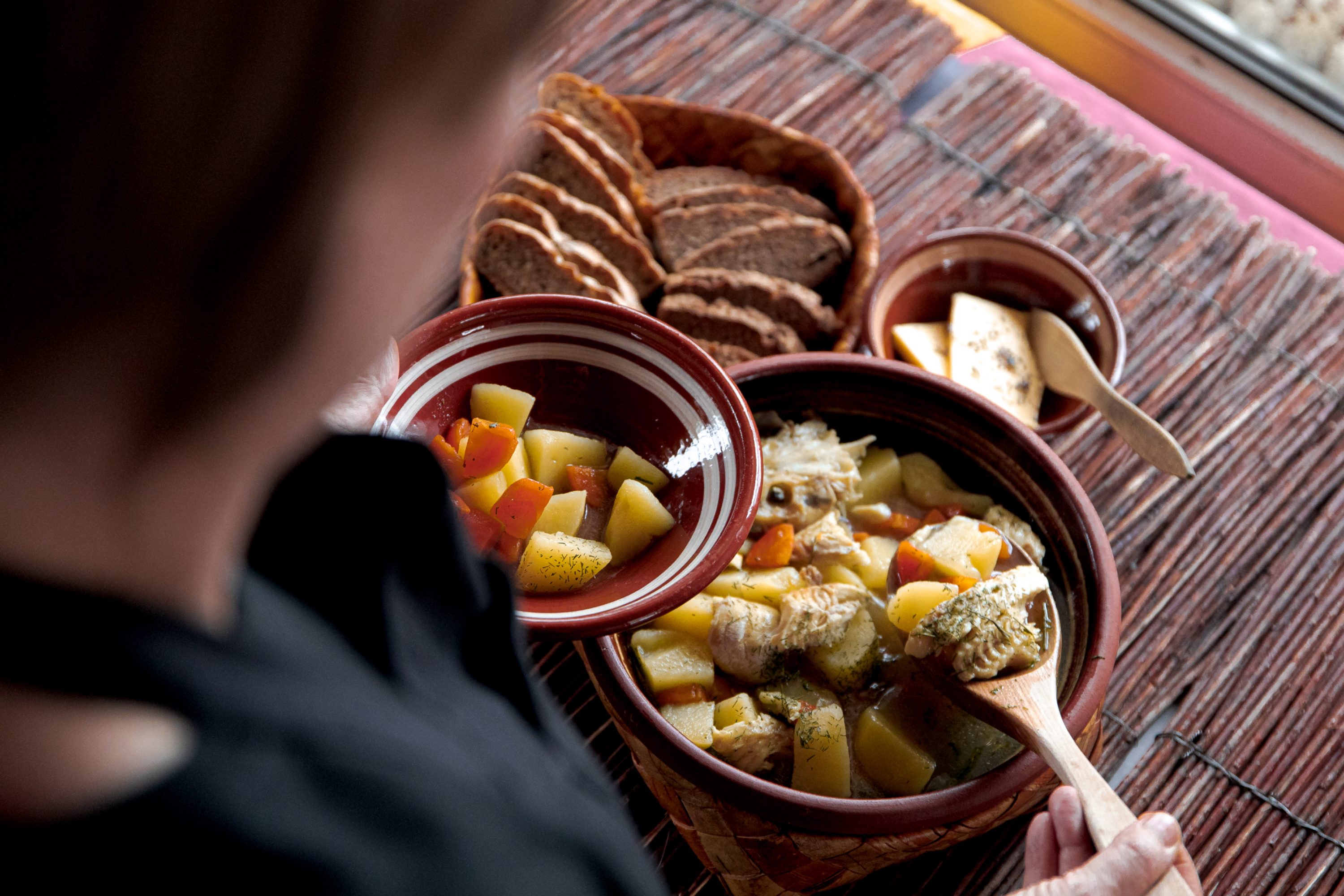 Reborn in the smoke sauna
Before Covid-19, many talked about transformative tourism – people who want to travel in order to change their minds and to see new sides of life.
– I would say that our guests often get experiences of enlightenment. This has happened, amongst other things, via food, smoke sauna and nature. I have a great power in my hands and it's really motivating. I can give something special to another person, which might change that person's life, perhaps in a significant way. Big businesses can offer showy facilities, but we offer something that reaches people at a cellular level. That's our place in the market, giving those authentic experiences, Anni explains.
– Last December, I started to run a smoke sauna session once a month. My idea was to offer local people the experience of what a smoke sauna can give them. Many have received great enlightenment and a feeling of being reborn! This is difficult to explain, so you need to try it for yourself to understand. One American guest noted that if everyone got to experience a smoke sauna, the need for hard drugs would disappear from the world. That's how deep the enjoyment of the smoke sauna had been for this person. Guests staying at Puukarin Pysäkki are encouraged to show openness in their heart and soul – the guests are requested to arrive with a curious mind and willingness to accept what they are offered.
– In my opinion, it's not good to live in extremes. It's best to seek balance. In this way one can form a set of core values, which you can lean on when making important decisions. Life is not black and white. Change always starts from the inside, from your own will. And you can get enthusiasm and inspiration for this change from Puukarin
Pysäkki, Anni concludes.
– Puukarin Pysäkki is a guesthouse offering sustainable travel experiences in Valtimo, North Karelia.
– Anni Korhonen bought the guesthouse from her parents in 2012 and continued their good work
– Cultural sustainability is promoted at the guesthouse, for example, in how Karelian culture is honoured and respected. Anni plays a Finnish kantele, and in this way helpskeep the old culture of Karelia and Kalevala alive.
– Puukarin Pysäkki is a member of ECEAT (European Centre for Ecological and Agricultural Tourism) Finland and has a Sustainable Travel Finland badge.
– The guesthouse is part of the We Speak Gay community that, amongst otherthings, promotes LGBTQ friendly travel.