Welcome to North Karelia!
North Karelia is located in the easternmost part of Finland. Joensuu is the regional hub of North Karelia, located approximately 400 km to the Northeast from Helsinki. With more than 2200 lakes, our region is one part of Finnish Lakeland area. Our region is easy to reach via Finland's capital Helsinki. Read more about the most convenient ways of reaching our destination.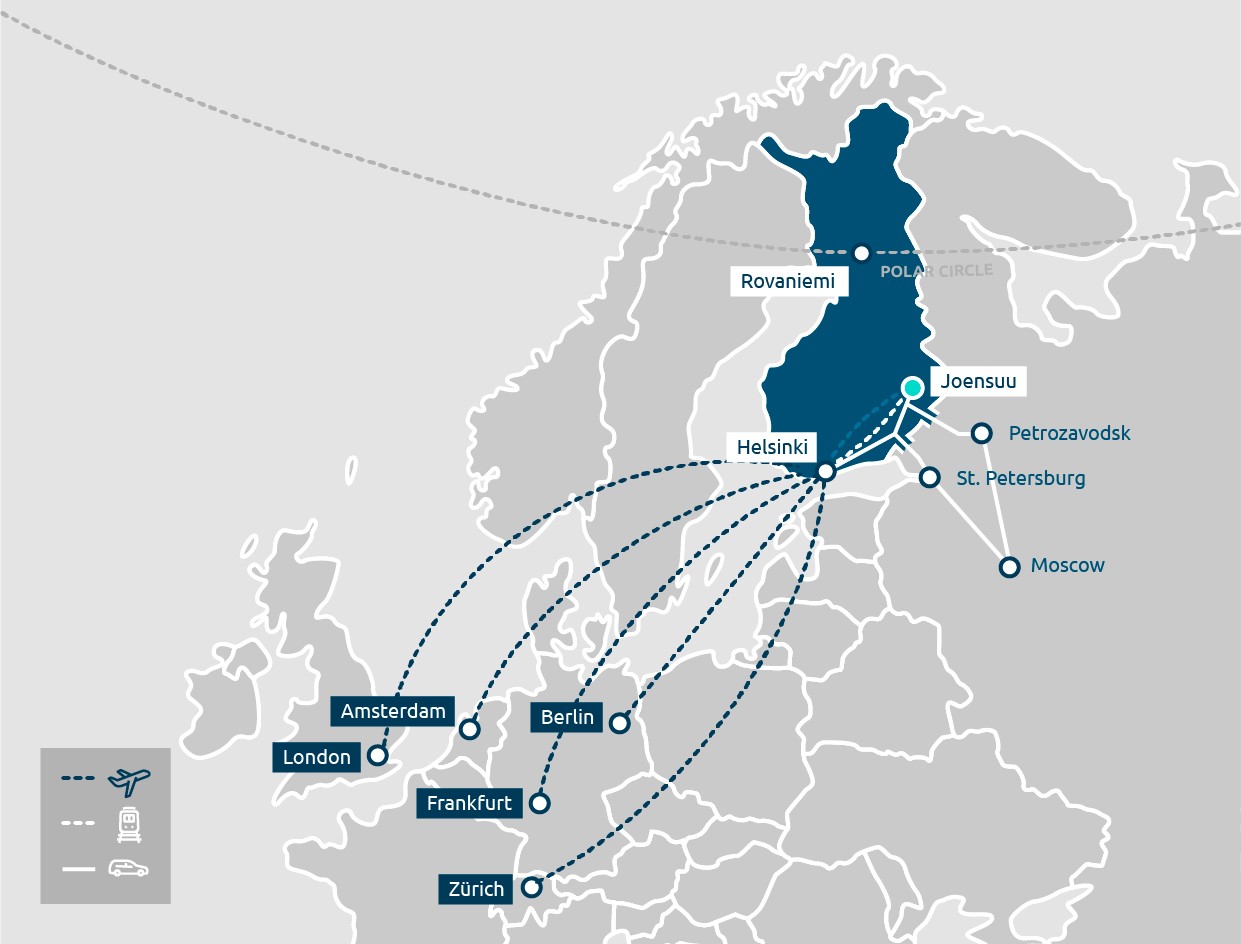 By car
Driving in Finland is easy and stress-free, there are no traffic jams and very little traffic in the rural areas. While moving by car you can stop by beautiful sceneries and visit interesting places along the way.
Car rental services in Finland and Joensuu:
By train
An eco-friendly choice to travel to Joensuu is by train. We recommend taking the train also for the sake of beautiful sceneries – you will be traveling along lakes most of the time. The travel time from Helsinki to Joensuu by train is approximately 4,5 hours.
By bus
Taking a bus is a good choice especially if you want to enjoy the sceneries and take a stress-free ride between towns. We are ready to help you to find the most convenient way of reaching your destination by bus.
Bus operators in Finland:
By plane
You can fly to Helsinki from the great cities of Europe, Asia or USA and take a connecting flight to Kuopio airport.
A bus or car drive from Kuopio takes around 1 hour 50 minutes, depending on your final destination.
You can also take a flight to Lappeenranta and continue by car or train. By train you will get to Joensuu in 2,5 hours. A car drive from Lappeenranta to Joensuu takes approximately 2 hours 45 minutes.