Four National Parks of North Karelia
The unique nature of North Karelia offers tourists different places to visit. Four national parks: Koli, Kolovesi, Patvinsuo and Petkeljärvi will show you the beauty of Karelian nature. Ruunaa hiking area, located in Lieksa, is one of the important hiking destinations of North Karelia as well.
Tiilikkajärvi, Hiidenportti and Linnansaari national parks are also just a short drive from the parks of North Karelia. You can combine a visit to the parks of North Karelia with a visit to the parks of another regions.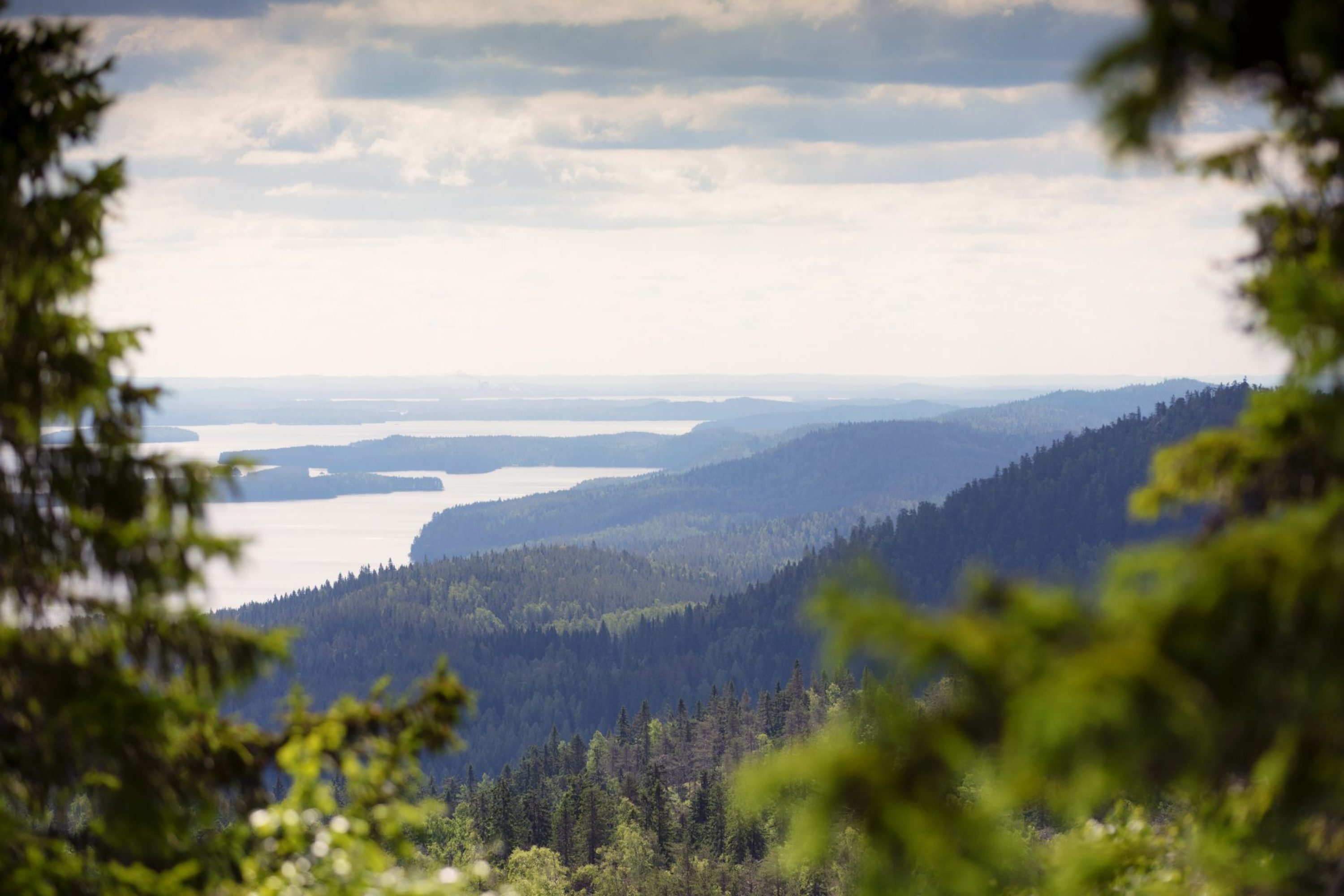 The breathtaking landscape of Koli National Park – the most Finnish view ever
Koli´s spacious, austere and ancient nature provides experiences for hiking all year round. The routes for day hiking consist of ring trails and trails leading to the rocky peaks of Koli.
Did you know that on the top of Ukko-Koli iconic national landscape opens, and you can reach it by foot only within 10-minute distance? In day trips you will get to known what Devil´s church cave is, to soar to Mäkrävaara hill or look around the beautiful landscape from Räsävaara´s observation tower.
For those, who are looking for more challenging trips, the Herajärvi trail guarantees an unforgettable hiking experience in various landscapes.
The Koli Nature Centre Ukko ´s permanent exhibition, changing art exhibitions and guidance for hikers are available all year round. In Koli Shop, that is located close to the Nature Center, you can rent camping tools or book guided tours.
Break Sokos Hotel Koli´s spa, restaurants, and the slopes of Koli are located close to the Koli´s peaks, so you can enjoy the national landscape during your holiday.
How to get there?
Usually, the easiest way to come to Koli is arriving by your own car. The area has many opportunities for parking, and the most popular parking areas, which are situated close to the Ukko-Koli peaks P1 and P2. In high season you should check the availability of parking in advance.
If you travel by public transportation, the nearest railroad- and bus terminals are in Joensuu. The distance from Joensuu to Koli is 63 km.
So, the easiest way to get from Joensuu to Koli is to rent a car or to take a shuttle taxi, because public transportation does not go to the National Park.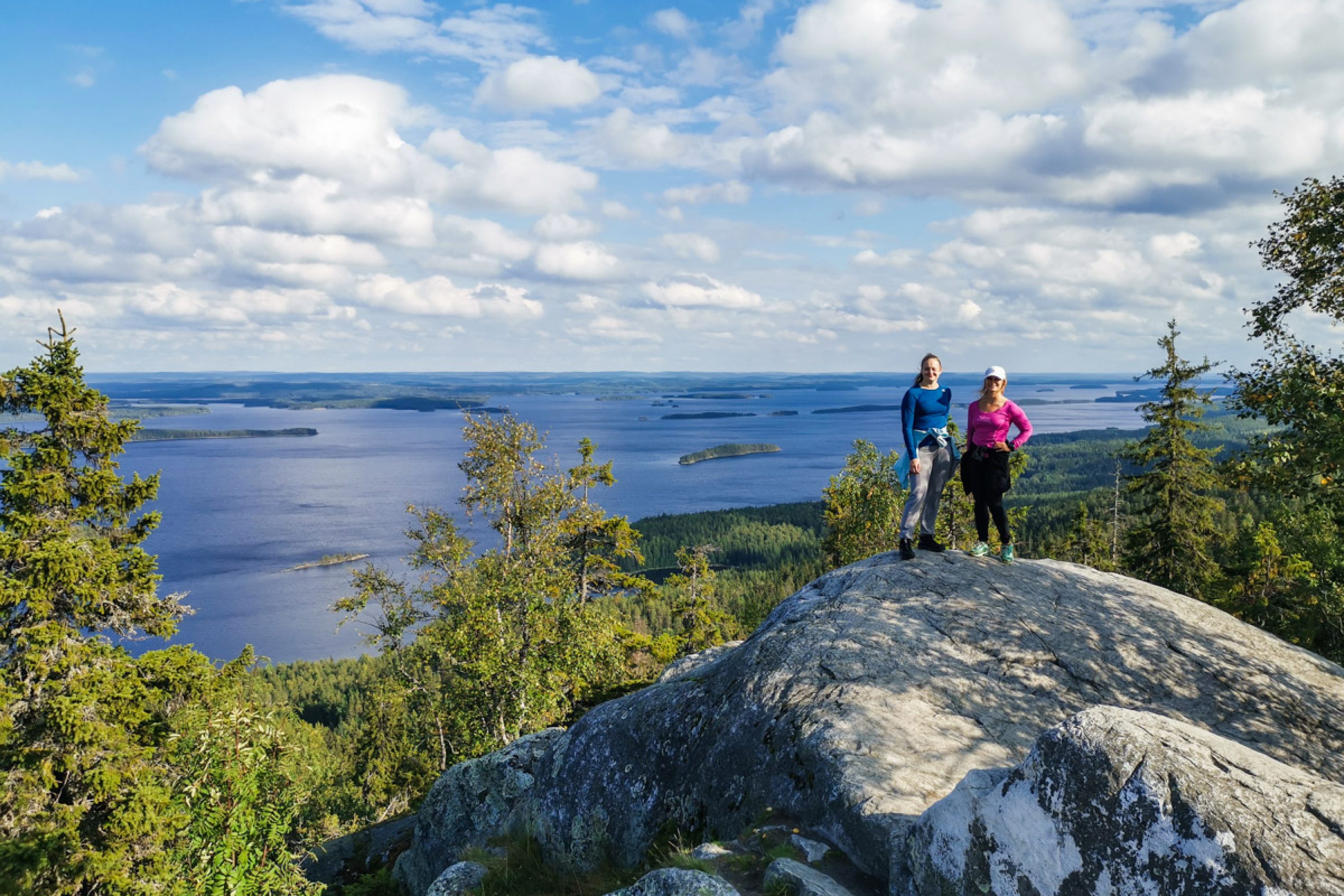 Searching for the most iconic Finnish landscape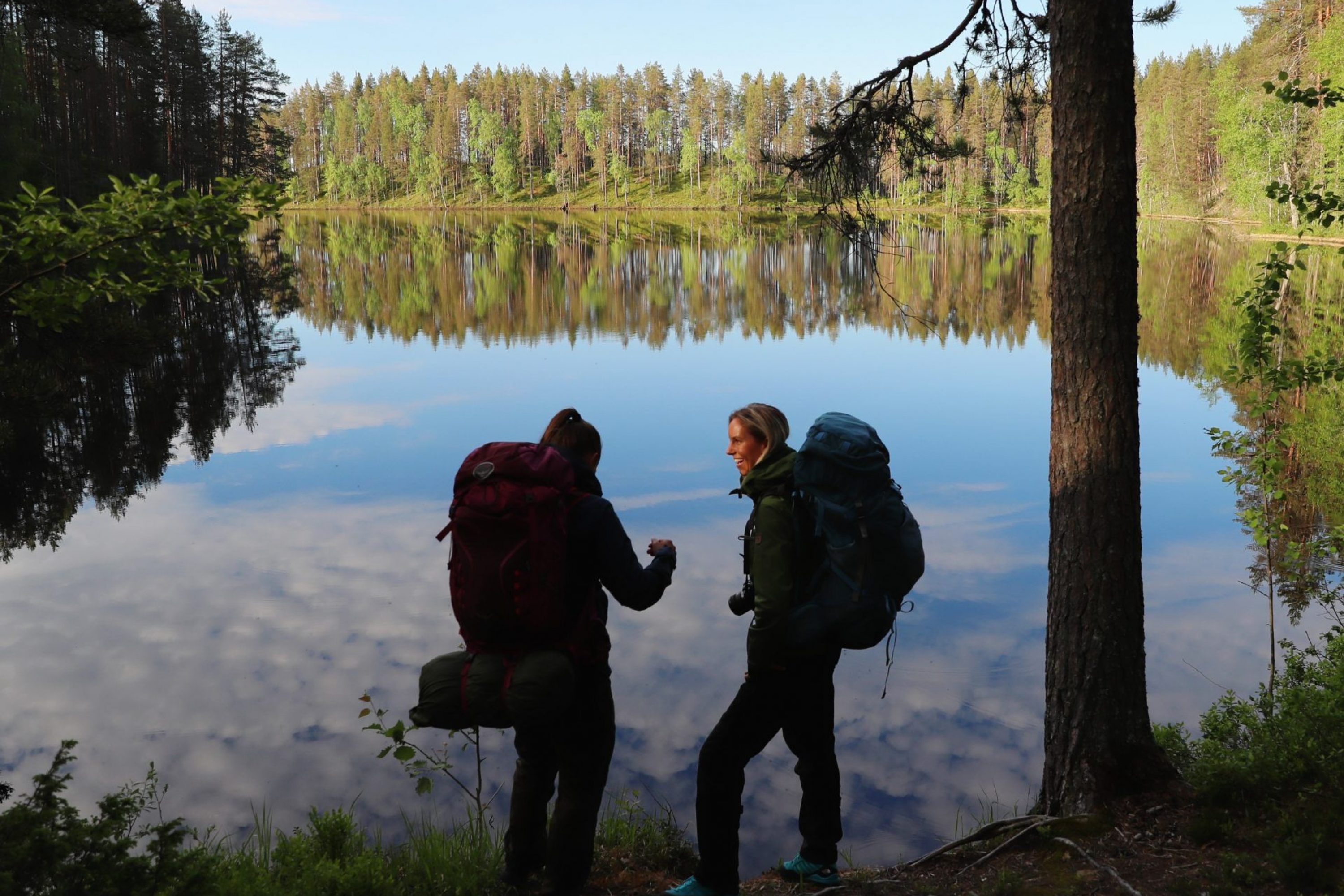 Petkeljärvi – The easternmost national park of Finland
The Petkeljärvi National Park in Ilomantsi, surrounded by wilderness, guarantees a variety of ridge trails, ski trails and rowing opportunities. Also, the North Karelian oldest hiking trail Taitajan Taival (31 km) passes through the Petkeljärvi area. Other trail tracks can be chosen from the several routes of different difficulty levels, according to your own preferences.
Unfortunately, you can´t arrive to Petkeljärvi by public transportations. It takes about one hour to get from Joensuu to Petkeljärvi by car.
In addition to accommodation options, Petkeljärvi Hiking Center and Nature Information Hut provide guidance for hikers, canoe and boat rental and café-restaurant services. After exploring the National Park, it´s also worth learning about the traditions of military history and the poetry in Möhkö – the easternmost village of Finland.
Did you know, that in Koli National Park, at the top of Akka-Koli, you can find a wilderness church?
Have you ever heard that Petkeljärvi National Park is also the smallest national park in Finland? It´s size is only 6 square kilometers.
↟↟↟
Patvinsuo National Park is home to not only brown bears, but also wolverines, lynxes and American beavers.
If you're lucky enough, you might be able to spot an endangered Saimaa ringed seal enjoying the summer sun on the beaches of Kolovesi National Park.
Patvinsuo is a place of mires and sandy beaches
Patvinsuo is a stunning wildlife park, where sandy beaches and clean forest blend together. The Patvinsuo area is a natural habitat for Finnish wild animals. There are about 80 km of well-marked trails in the National Park. Most of the trails are easy to walk along. 20 km of duckboards have been laid across mires and wetlands.
The most popular trail in the park is Suomunkierto Circular Hiking Trail, which is 15 km long and winds around Lake Suomunjärvi. Patvinkierto Circle Trail (25 km) leads through level, easy to cross terrain in the southern part of the park. The dampest spots have duckboards.
Suomu Nature Center provides guidance for hikers, equipment rental, accommodation and sauna services from spring to autumn.
Before arrival, please note that during the nesting period, movement in the National Park is allowed only along the marked routes.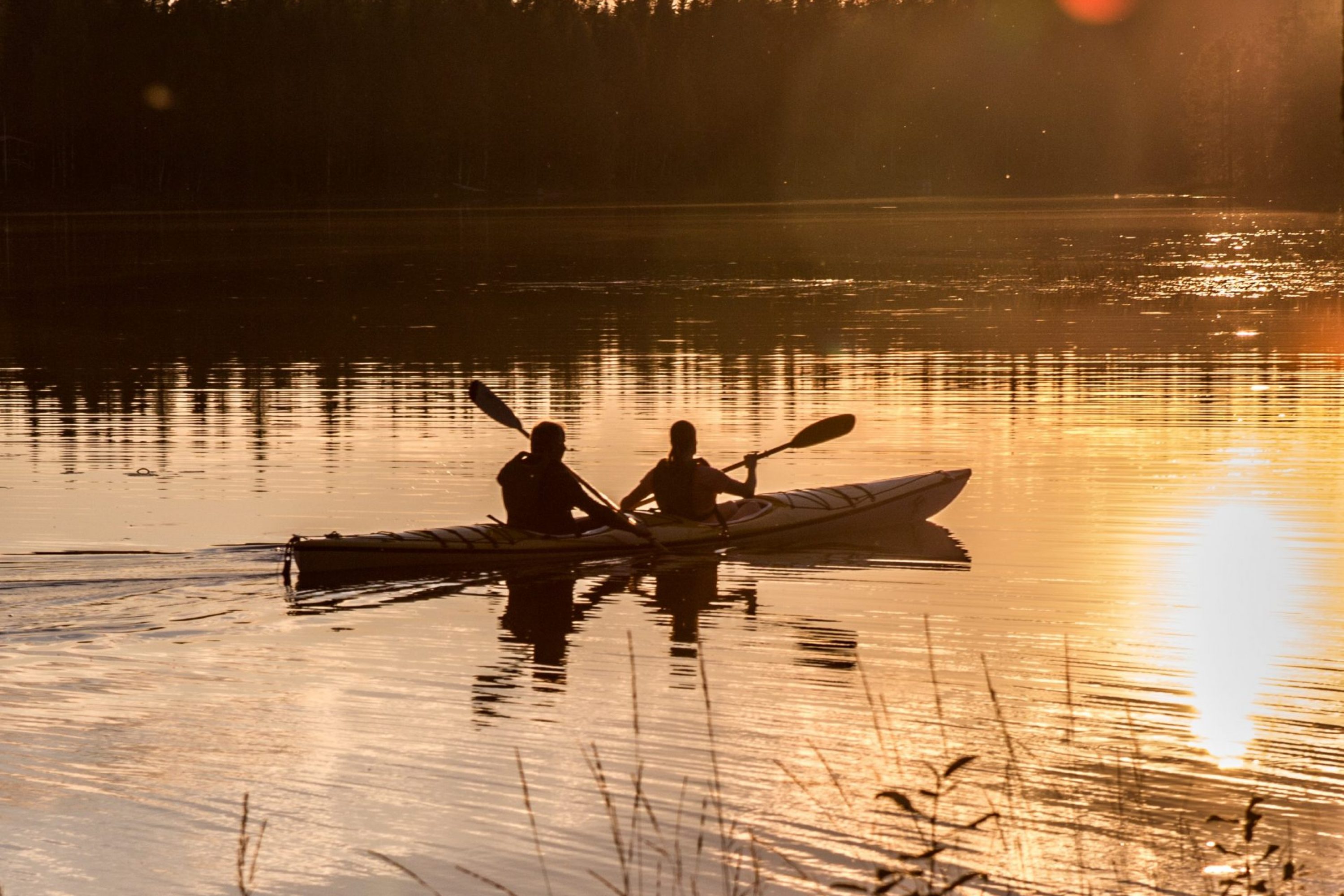 Experience the summer Kolovesi
Kolovesi National Park is a rowing paradise where you can experience the unique nature of the Saimaa Lake archipelago. Steep rock walls, more than 100-year-old forests, and a clean lake landscape offer an experience for both water walkers and forest trails hikers. The endangered Saimaa ringed seals, otters and other aquatic animals and plants live in Kolovesi. There is only one nature trail and one hiking trail in the National Park. Both trails are classified as demanding or extremely demanding due to the steep and rocky ground.
This National Park is suitable mostly for rowing and canoeing.
Kolovesi Nature Center´s services customers in Enonkoski during summertime. Nature Center provides guidance for hiking and rents out boats and canoes.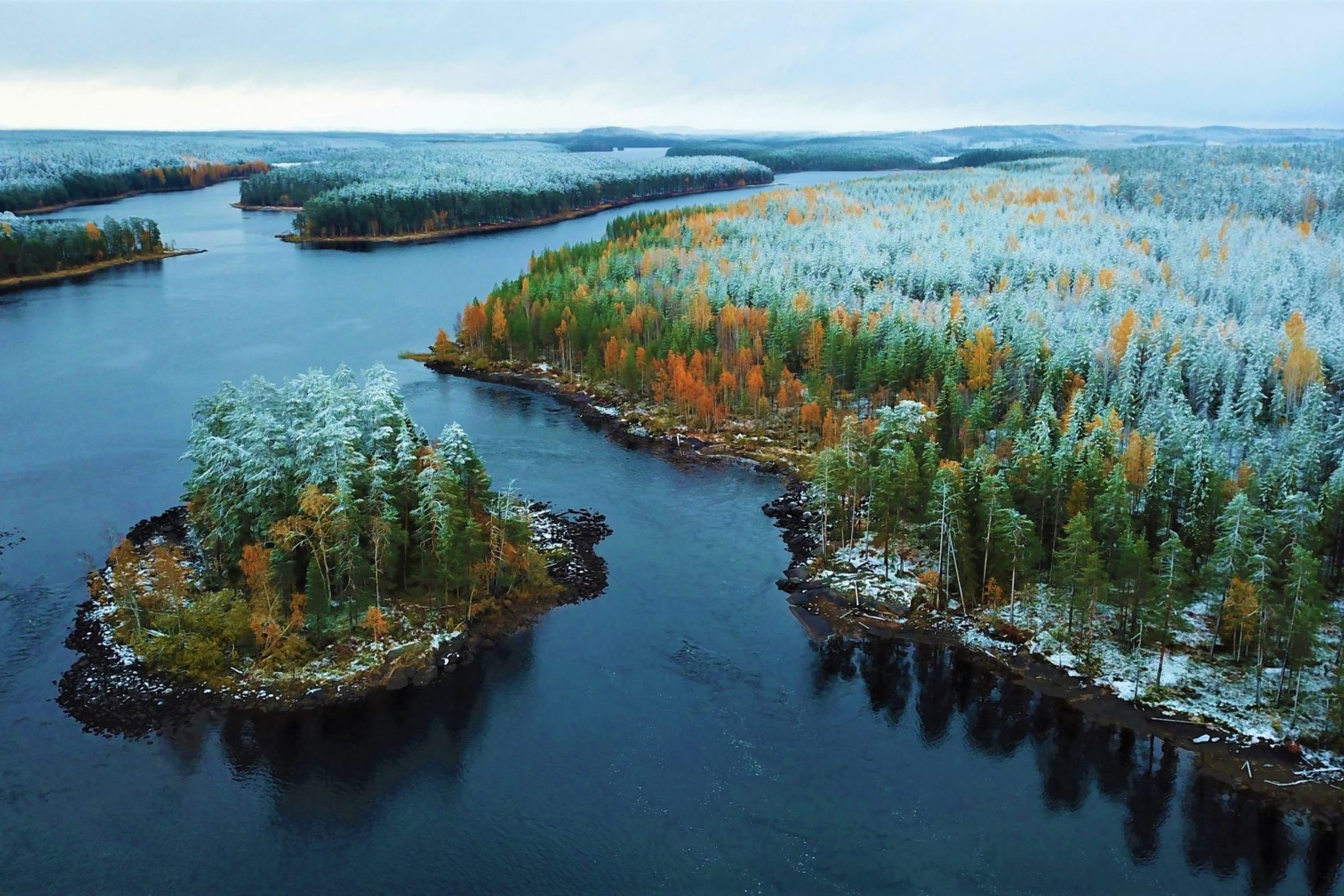 Ruunaa Hiking Area
In Lieksa, Ruunaa hiking area offers almost 60 km of hiking trails with authentic North Karelian views. The trails in nature are suitable as day destinations also for families with children.
Koskikierros (31 km) or Neitijärvi tour (22 km) are suitable for more experienced hikers. Ruunaa area also offers a variety of fishing opportunities, kayaking, and rafting by raft or dinghy.
Ruunaa Hiking Center provides accommodations, restaurant services and guidance for hikers. The Center sells fishing permits, camping tools and area maps.
Ruunaa area is open for parking, but public transportation has no access there. There is a parking area for recreational vehicles and caravans on the eastern shore on Haapavitja.
Plan your national park trip