"The desire to travel will never disappear"
Äksyt Ämmät is a North Karelian travel agency, tour operator, activity organiser, and an online travel shop specialising in sustainable tourism. The business has become known for its pioneering work in promoting sustainable tourism on both a local and national level.
Äksyt Ämmät is the only Finnish business that has a TourCert certificate for commitment to reducing their carbon footprint. In 2020, they were the first North Karelian business to receive the Sustainable Travel Finland label from Visit Finland. Over a period of 20 years, they have also received several other recognitions and awards.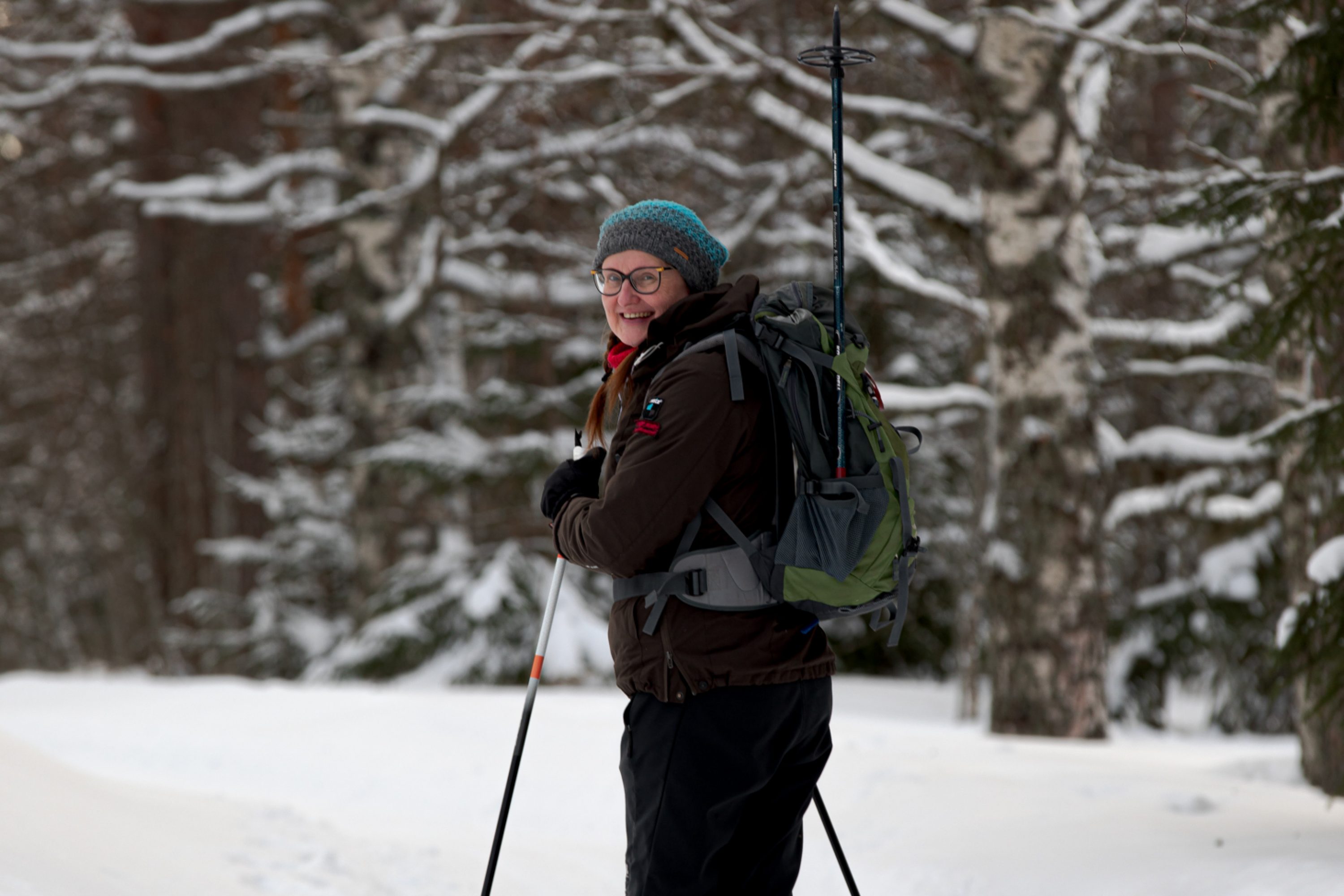 Roaming North Karelia by muscle power
At the beginning, back in the 1990s, sustainability for Äksyt Ämmät primarily meant activities that were done using one's own muscle power, or that foreign visitors were encouraged to stay longer, at least one week at a time. Over the years, their relationship with sustainability has become more versatile.
– Ongoing climate change was perhaps the biggest reason why we started to develop more sustainable travel – people's desire to travel will never disappear. We only realised later that sustainability is a good selling point and something worth promoting. By the time the sustainability boom started, it was easy for us to start highlighting sustainability in our operations, says Minna Murtonen from Äksyt Ämmät.
Guests are still encouraged to roam North Karelia by muscle power, whenever distance allows. For example, the 'Guesthouse to Guesthouse' tours activate customers to ski, cycle or paddle from one guesthouse to another.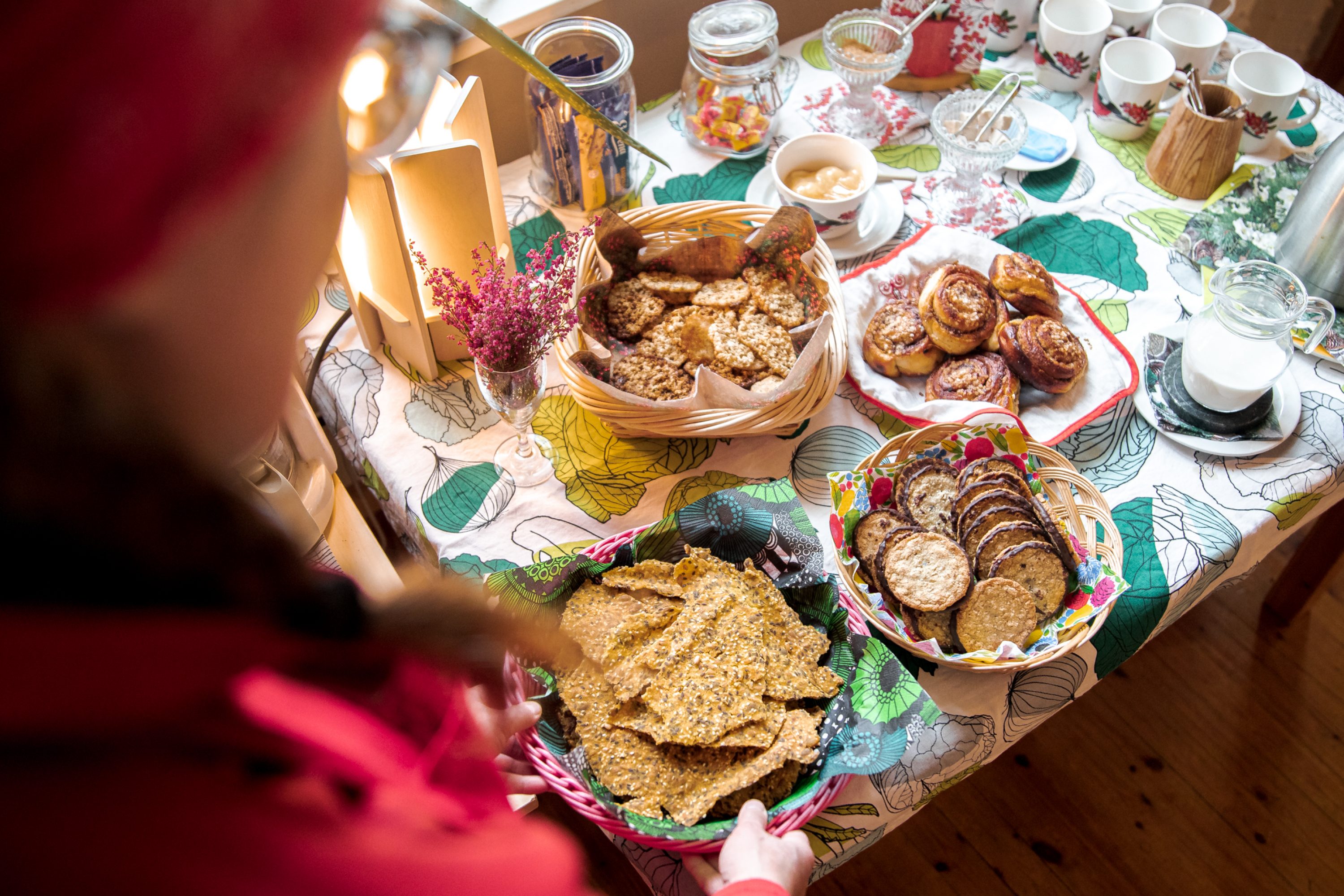 Organic products and local food
In a traditional Finnish guesthouse kitchen, there's always a lot to do, all day long. Fresh produce, such as herbs, berries and root vegetables all come from the garden and the local area. Dried funnel and black chanterelle mushrooms are delivered by Pauli, and Tarmo brings perch and pike perch.
– Foreign guests are always amazed by how much we produce ourselves, like jams, juices and bread rolls. One time, a fisherman delivered some perch to the door of our guesthouse late in the evening. I realised that I'd still have to clean the fish before going to bed.
A German guest, who'd been following the situation, wondered why I couldn't simply open a can of tuna instead – this, he reckoned, would be a lot easier. Well, I couldn't hold back from comparing the problems of imported tuna, to a perch that had been swimming in the lake just half an hour earlier. While we chatted, I cleaned the fish and fried it, as the customers watched. After the first bite they quickly changed their minds, Minna laughs.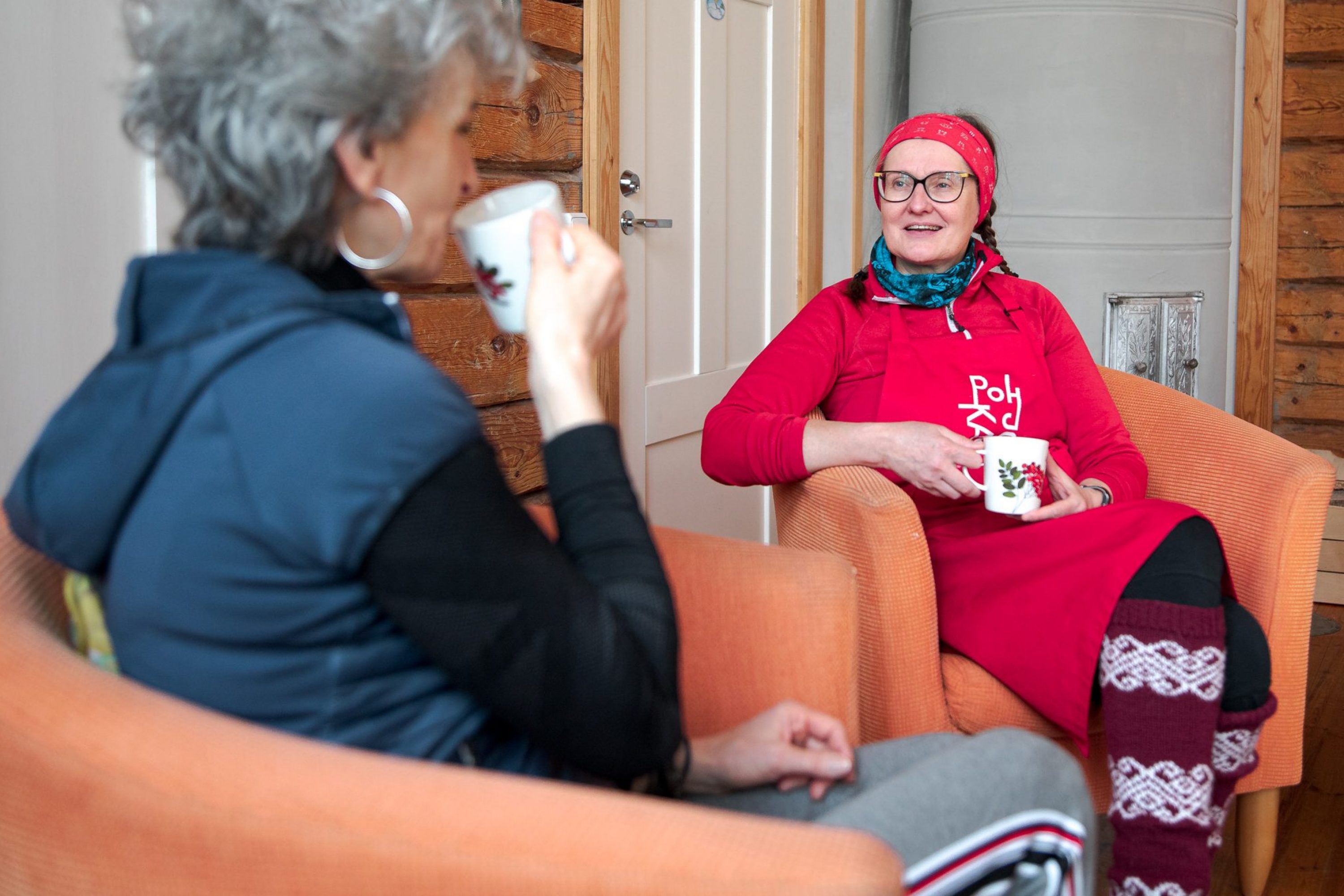 Promoting wellbeing
For Äksyt Ämmät, sustainability is also about teaching guests to stop and enjoy the moment. When you slow down, you start to notice things you haven't previously paid attention to. Simply eating breakfast outside or spending an evening by the campfire can be a real experience.
– One of the biggest problems today is the hectic pace of life that wears people down. This same hurried state is noticeable when people are on holiday. This is why we suggest to guests that it's not always necessary to be doing extreme activities. This may already be self-evident to Finns, but to our foreign customers, not having to be always on the go, is something that needs getting used to. After a herbal sauna, when you just leisurely sit on the porch with your toes in a foot bath, it's a lovely feeling. You realise it's something you've been missing, Minna explains.
– If our view of sustainability had to be summed up in just one word, it would be perseverance – from the start we've followed the same line, we've promoted it and practiced what we preach. Sustainability is, above all, the small everyday acts that you make the effort to do, decides Minna, before hurrying off for a cross-country ski trip with her guests.
– Äksyt Ämmät is the only business in Finland that has a TourCert certificate for commitment to reducing their carbon footprint.
– Äksyt Ämmät was the first North Karelian business to receive the Sustainable Travel Finland label from Visit Finland in 2020.
– Äksyt Ämmät offsets the flight emissions of their foreign guests via the atmosfair.de organisation.
– Guests are requested to save water and electricity, and to use the same bath towel more than once.
– Washrooms contain only domestic, ecologically produced soaps and cleaning products.
Read more about Äksyt Ämmät's services and how they work sustainably