Finnish Lakeland offers a large variety of healing and recovering effects of Finnish nature. There are very few rules to enjoy Finnish sauna and the most important one is, it has to make you feel good. Also food from pure and clean ingredients and an easy going lifestyle play a big role here. Welcome to relax and breathe the cleanest air in the world.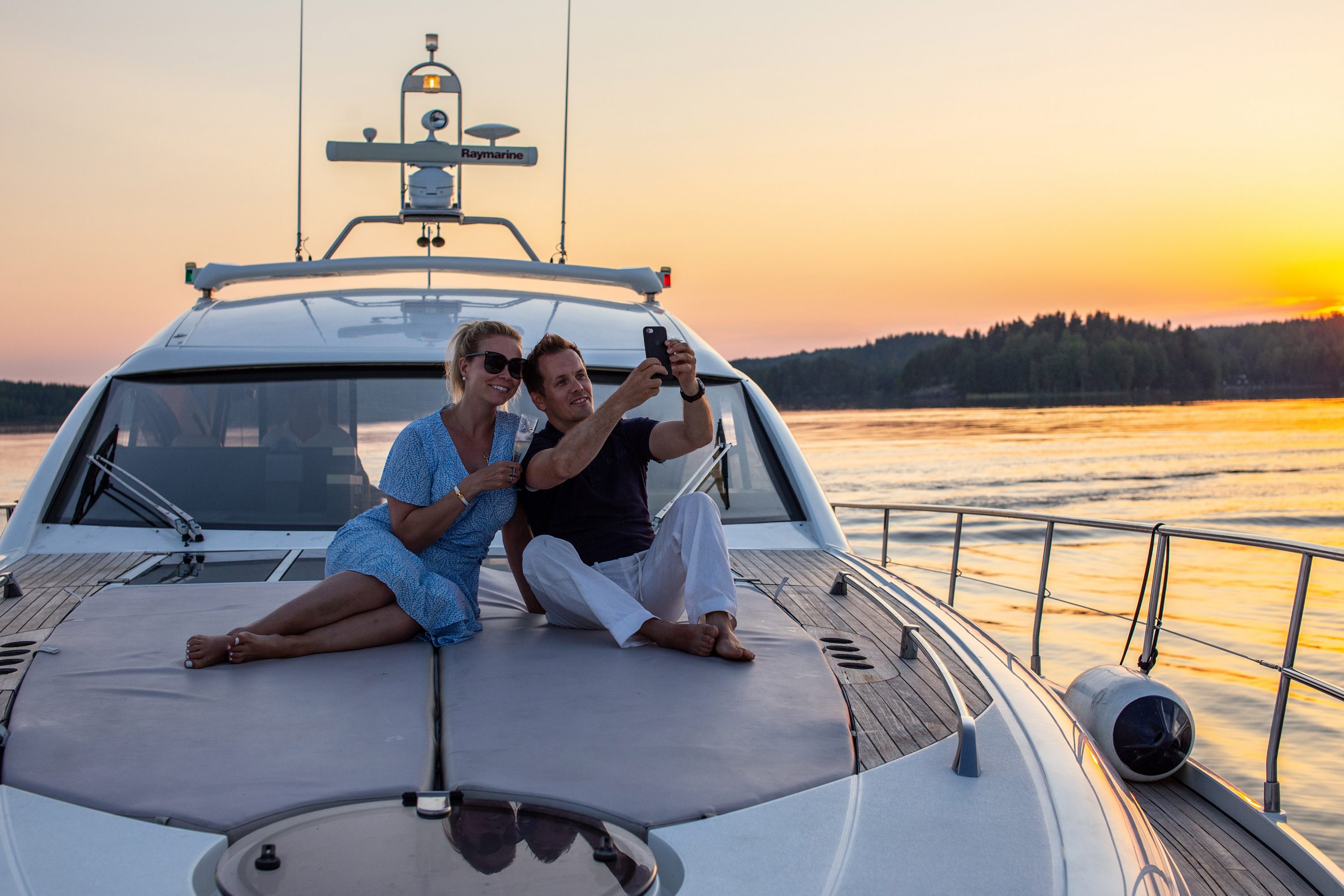 Itinerary
DAY 1 Kuopio airport – Tahko 60 km
DAY 2 Tahko
DAY 3 Tahko – Kajaani – Vuokatti 192 km
DAY 4 Vuokatti – Kuhmo – Lentiira 111 km
DAY 5 Lentiira – Nurmes/Bomba 123 km
DAY 6 Nurmes/Bomba – Koli – Kesälahti 232 km
DAY 7 Kesälahti
DAY 8 Kesälahti – Punkaharju – Savonlinna 67 km
DAY 9 Savonlinna – Sulkava – Imatra 125 km
DAY 10 Imatra
DAY 11 Imatra – Lappeenranta – Taipalsaari – Savitaipale – Anttola 157 km
DAY 12 Anttola – Rantasalmi 101 km
DAY 13 Rantasalmi
DAY 14 Rantasalmi – Kuopio 117 km
DAY 15 Kuopio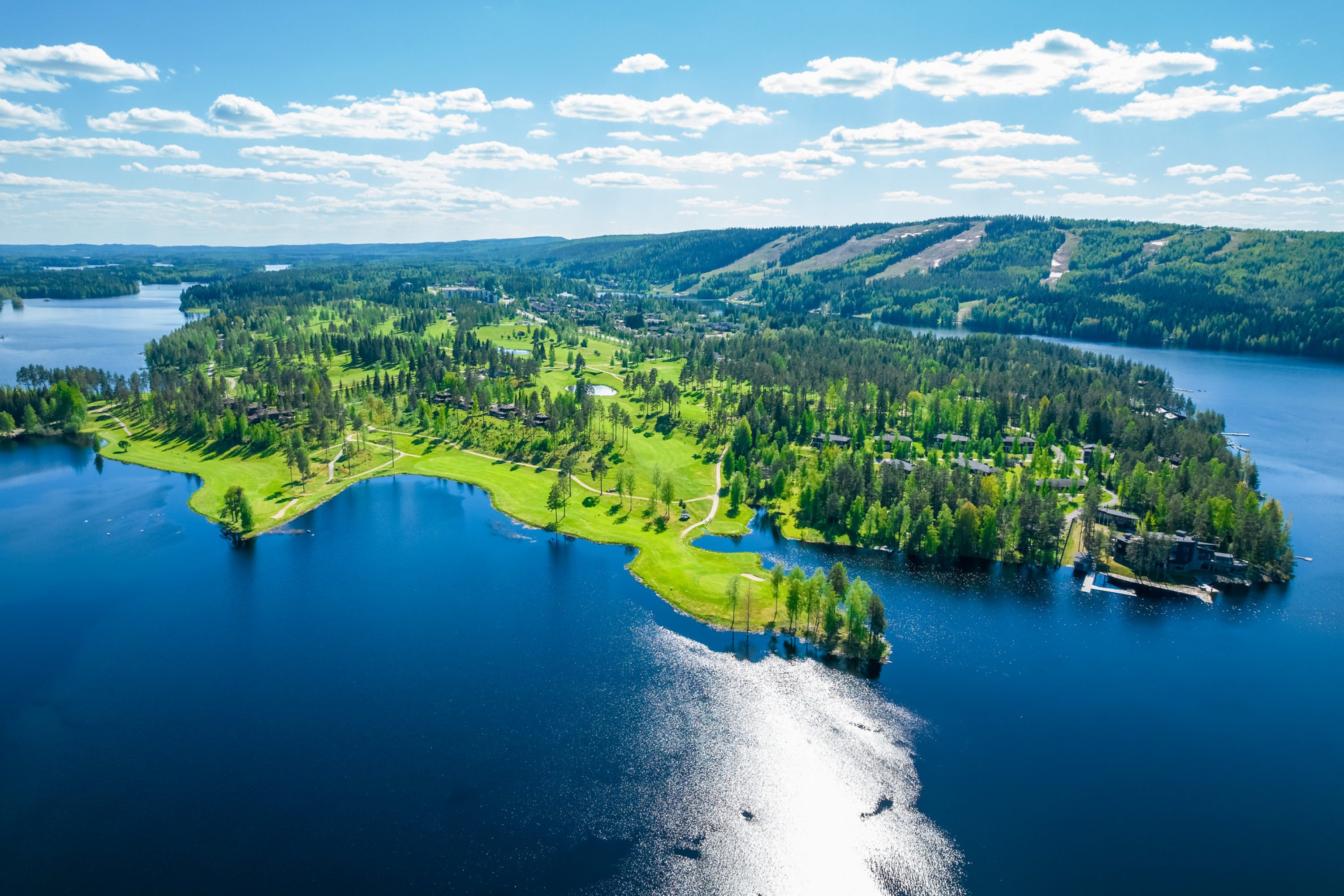 DAY 1 Kuopio / Tahko Holiday resort 60 km
Fly to Kuopio (KUO). Drive from Helsinki (HEL) 4,5 hours.
Tahko Holiday Resort is located about one hour drive from Kuopio airport.In Tahko area there are easy paths as well challenging altitudes, steeper trails, far-reaching views and comfortable resting spots, as well as well marked trails which attract visitors to explore.
Bucket list today
Climb on the top of Tahko hill using the longest outdoor steps in Finland! After climbing you can reward yourself with a gentle bath in a scenic sauna and spring-water hot tub. A delicious three-course dinner made with local ingredients will crown the experience.
>> Panorama Bar
Accommodation options:
At Tahko there is a special selection of different kinds of accommodation like hotels, suites/apartments, cottages or luxury villas.
>> Tahko
DAY 2 Tahko
Tahko Hill offers great possibilities all year round for outdoor activities. In summer time trails are great for hiking, mountain biking and paddling. There's also a disc golf track and two traditional golf courses with 18 holes.
Bucket list today
Take in the peacefulness of nature and enjoy picnic lunch by open fire in the gorgeous Tahko views. There are several lean-to's around Tahko area to choose from with different hiking distances. The staff of Break Sokos Hotel Tahko will help you choose the suitable trail for you.
>> Break Sokos Hotel Tahko
Fun e-bike tour exploring the Tahko Mountain Resort. Tahko offers many great and peaceful nature trails for bikers of all skill levels, not to mention the cleanest air in Europe. With the electric bike you will enjoy your entire ride, even the uphills.
>> Tahko Chalet
Restaurant option: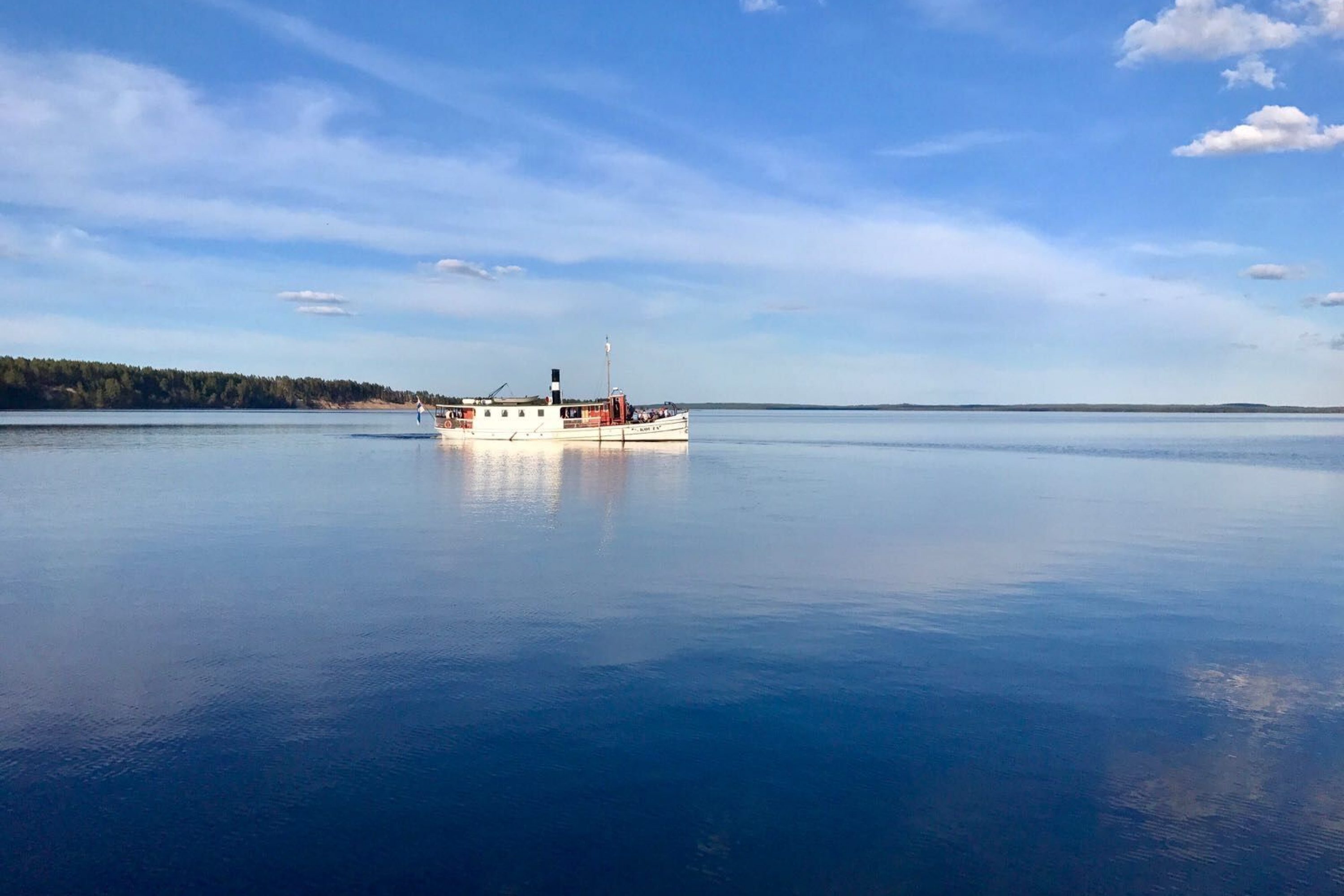 DAY 3 Tahko – Kajaani – Vuokatti 192 km
Kajaani and Vuokatti provide nature's beauty and an enchanting Finnish summer by crystal blue lakes. The distance between the two areas is only 35 km. When you arrive in Vuokatti, you will be greeted by the magnificent Vuokatinvaara hill, where you can admire the far-reaching scenery.
Bucket list today
Powered by a real wood-fired steam boiler, the 100-year-old steamship that crosses the surface of the water is an atmospheric environment to spend a summer day on a scenic cruise in beautiful Lake Oulujärvi.
>> Steamship Kouta cruise
Harmony Spa, spa water park and sauna world in Holiday Club Katinkulta is a paradise of pampering and treatments. Enjoy variety of sauna while top your stay with little indulge moment or enjoy 20 different pools, hot tubes and massage showers.
>> Holiday Club Katinkulta
Destination Vuokatti charms with versatile nature activities and wellbeing options. Try fishing, hiking, biking, golf, husky mercedes ride or experience winter in summer in the Ski Tunnel. In hot summer days nothing can be better than dive into water on Hiukka beach.
>> Vuokatti activities
Accommodation options:
>> Holiday Club Katinkulta
>> Break Sokos Hotel Vuokatti
>> Hotel Vuokatin Aateli
>> Vuokatti Sport Resort
Restaurant options:
>> Restaurant and Cafe Gastrobar3
>> Restaurant Kippo
>> Restaurant Ainoa
>> Restaurant Haapala B&B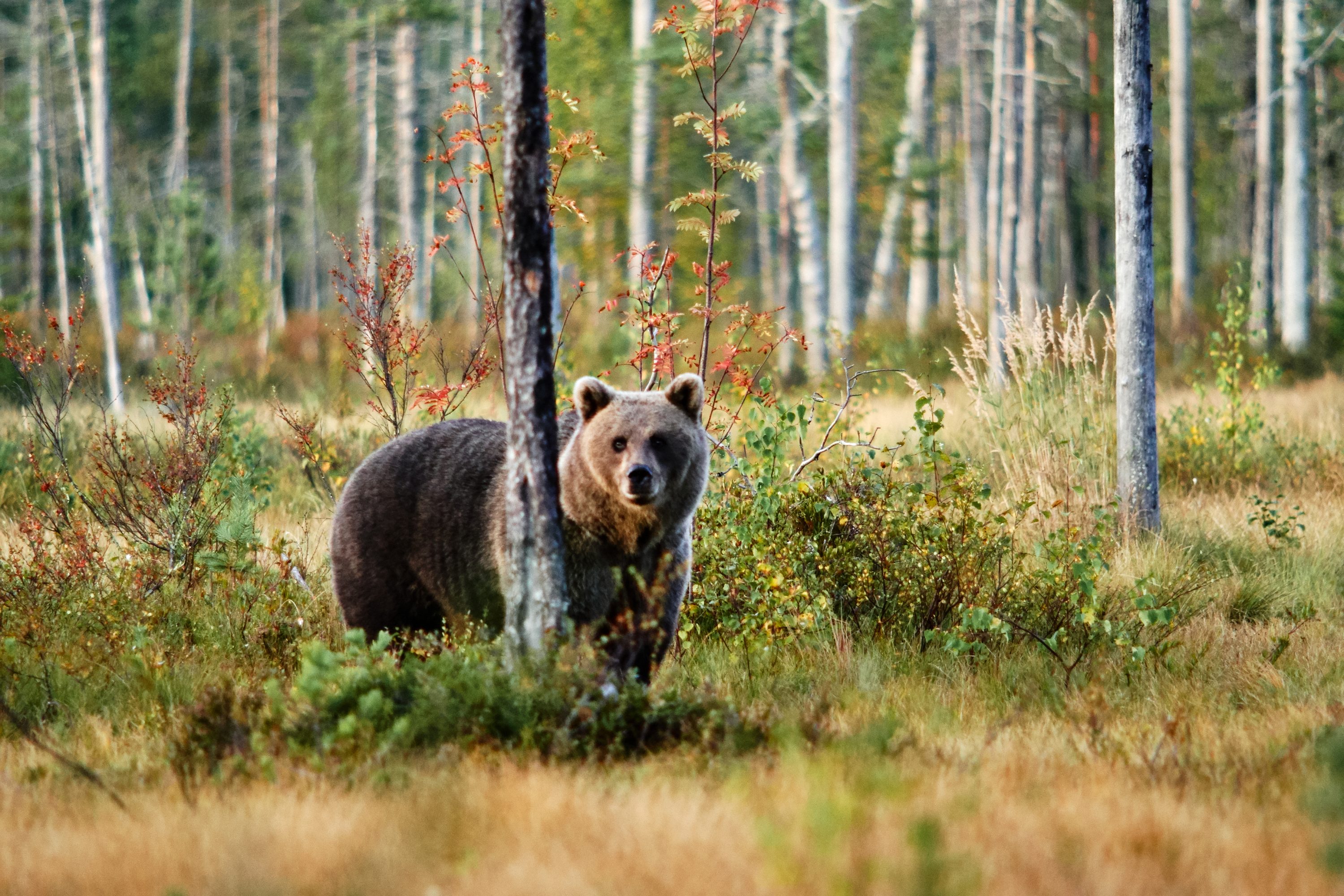 DAY 4 Vuokatti – Kuhmo – Lentiira 111 km
The Holiday resort offers heartfelt hospitality and unforgettable nature experiences. Whether an uncompromising wilderness enthusiast or gathering together for relaxation and natural wellbeing, you will sure have a delightful stay in Lentiira and Kuhmo.
Bucket list today
Floating down the Paljakkakoski rapids. Dressing in thermal underwear and a rescue suit with assistance from your guide will keep you safe, warm and dry. Exciting floating in the rapids can be done year round.
>> Floating down Pajakkakoski rapids
Meet with the majestic wild brown bear and other predators native to the wild taiga forest! The hidden stalls offers safe way for wildlife observation and photography.
>> Bear watching evening
Traditional treatments and pampering, such as peat massage and herbal-scented sauna therapy, are available in the skilled hands of a local naturopaths. Comprehensive wellness programs in the spirit of forest yoga and calming down. Also traditional smoke sauna is heated.
>> Wellness at Lentiira
Accommodation options:
>> Lentiira Holiday Village
>> Hotel Kalevala
>> Hotel Kainuu
Restaurant options: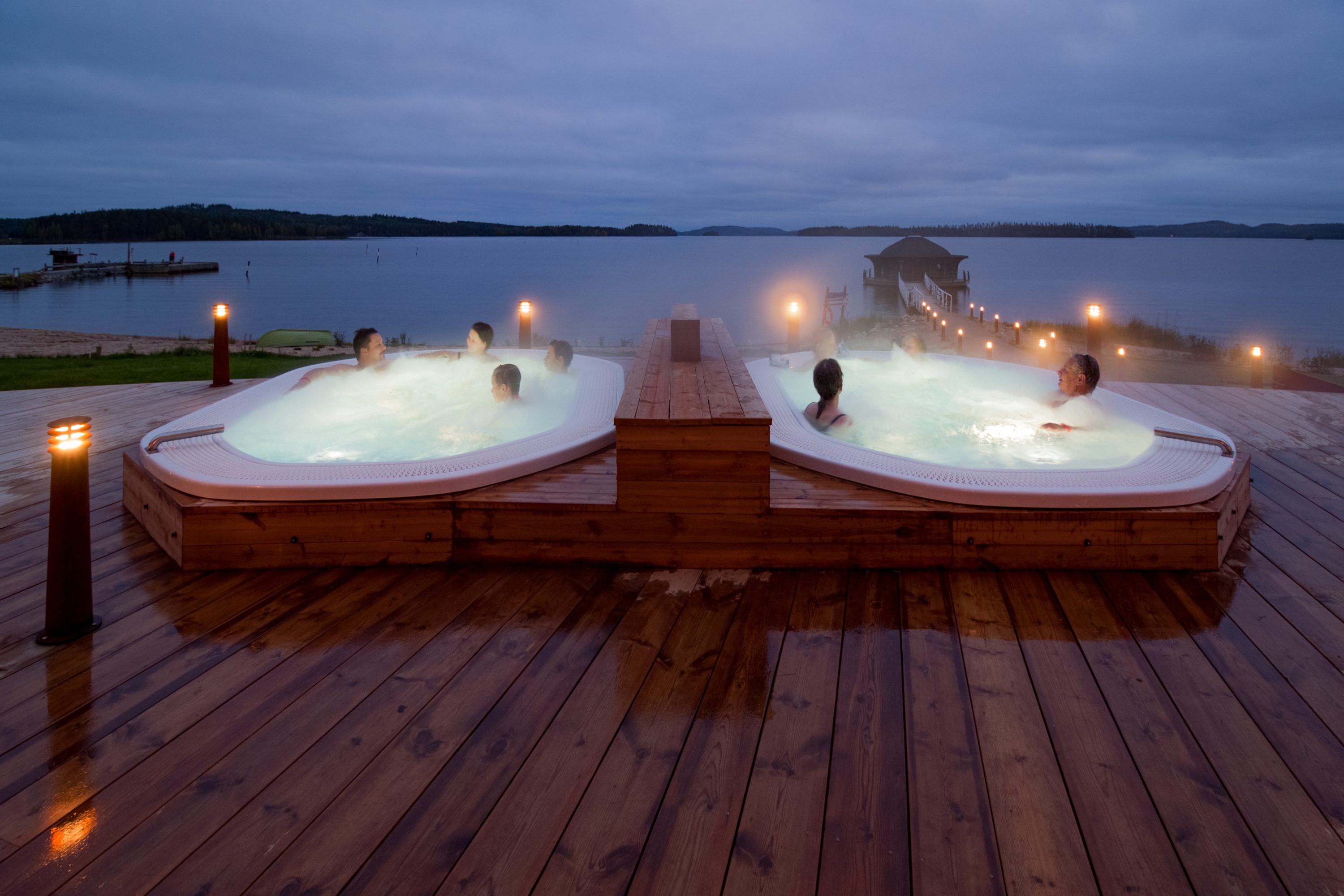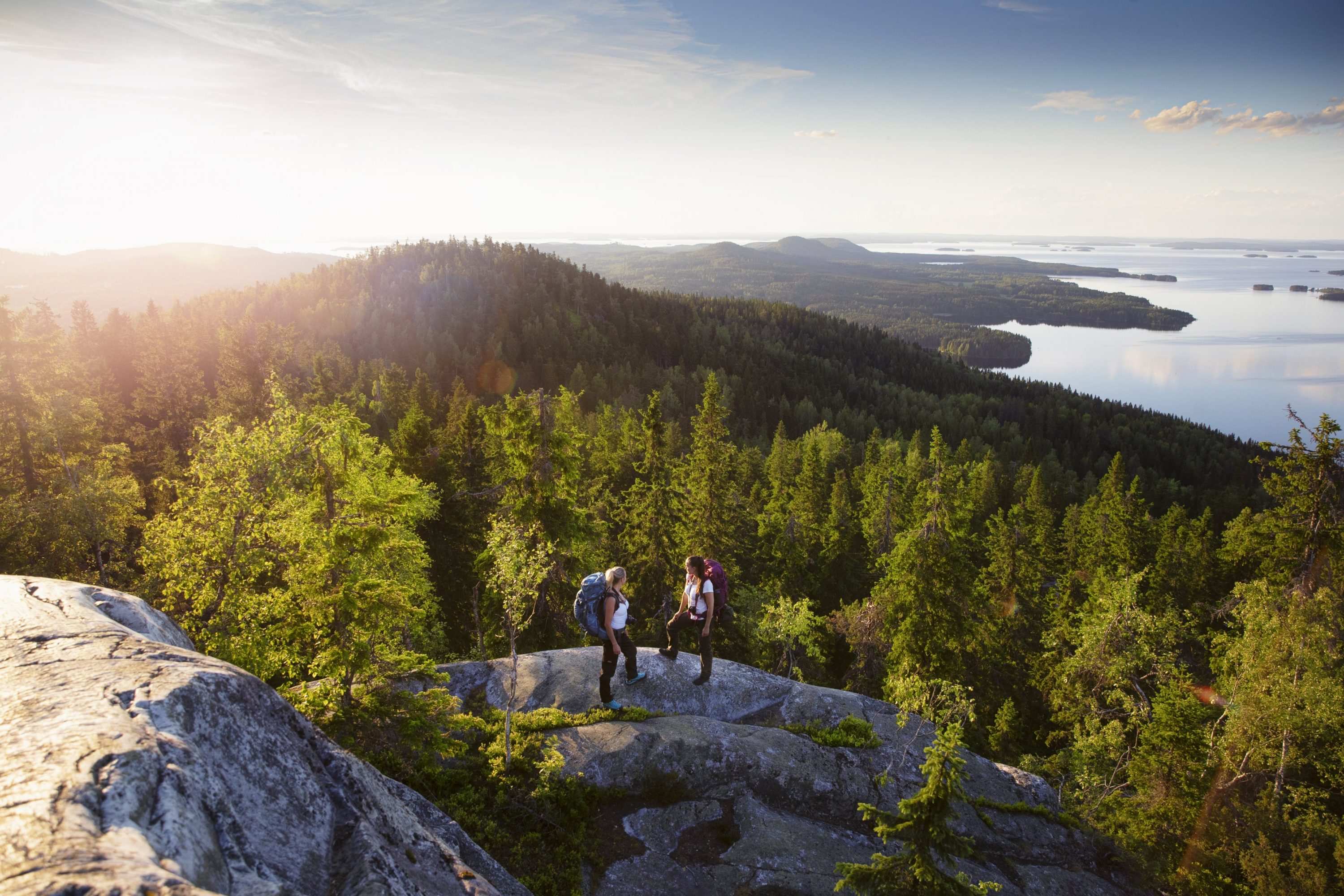 DAY 6 Nurmes / Bomba – Koli – Kesälahti 232 km
On your way you can visit one of the acknowledged Finnish national landscapes on the oldest bedrock of Europe, at Koli hills. Take a ride on the scenic lift or an easy guided walk around the three tops of Koli. Don't forget your camera!
Bucket list today
>> Koli Scenic lift
>> Guided tour of Koli tops
Accommodation option: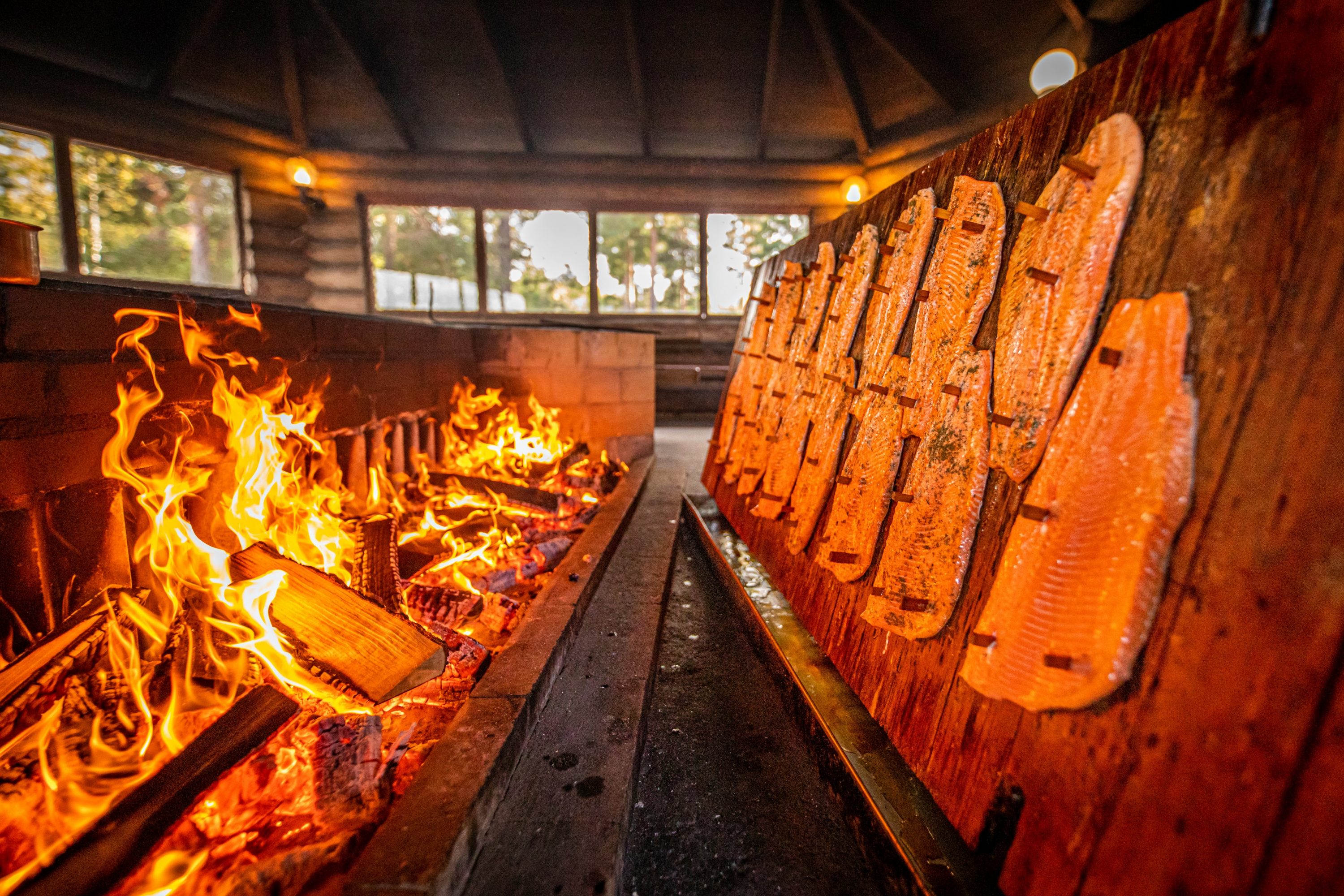 DAY 7 Kesälahti
Enjoy a day by the clear lake Puruvesi. Try fishing from a rowing boat or hire a bike for a relaxing ride. Try some local fish dishes in the restaurant or cook yourself. Maybe also the traditional smoke sauna is heated today! It is a lovely experience for anyone.
Bucket list today
Just lay down on the long sandy beach or in a hammock with a good book.
Lake shore fish evenings, with blazed salmon, traditional fish soup made of "muikku" (vendace) and for the meat lovers, a local speciality pit-roasted meat known as Rosvopaisti, "robber's roast".
>> Ruokkee Restaurant
Book a sauna visit to traditional smoke sauna. Compared to the "normal" this sauna is heated with huge logs for 4-6 hours and the heat inside is softer.
>> Traditional smoke sauna visit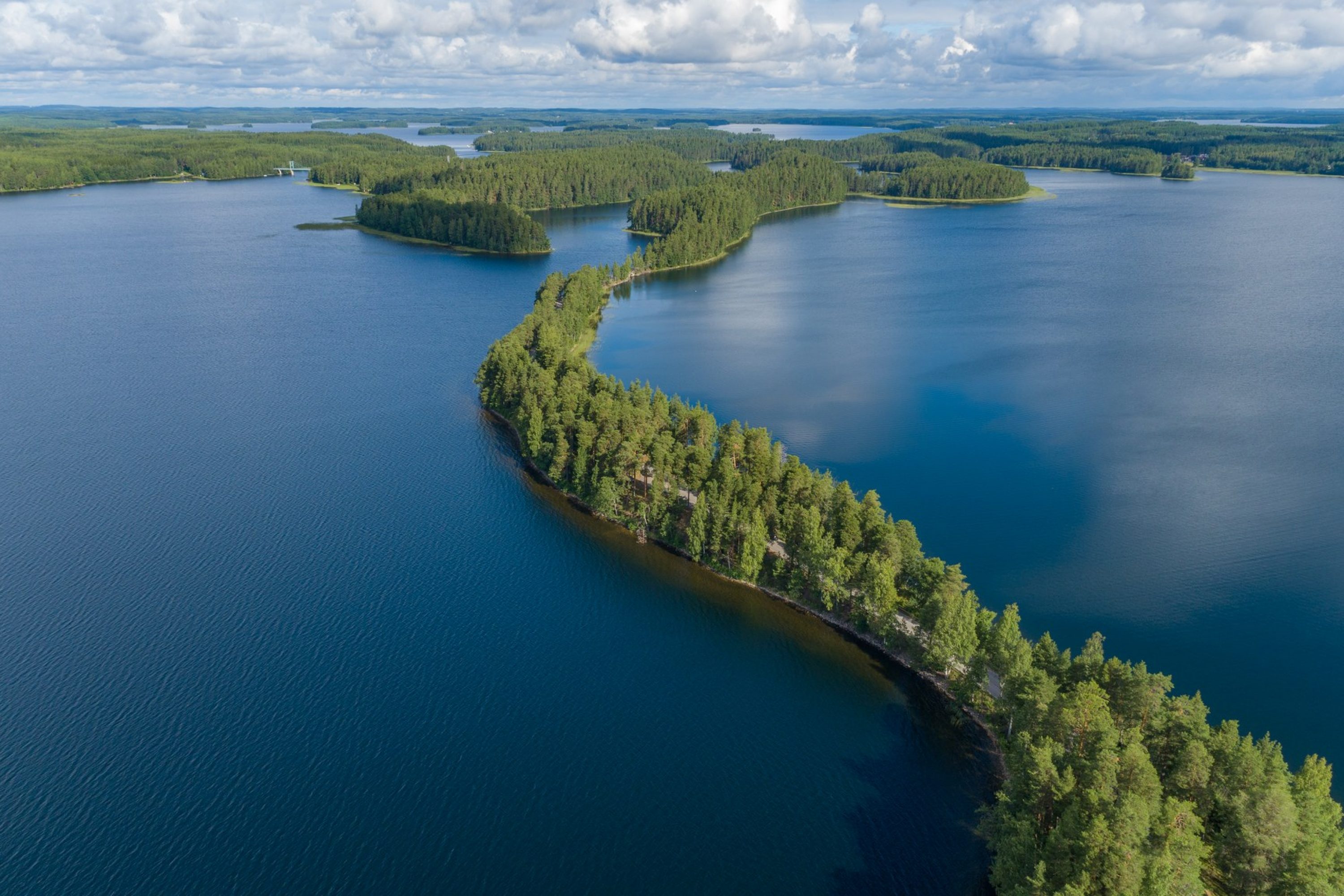 DAY 8 Kesälahti – Punkaharju – Savonlinna 67 km
Summer capital of Finland, Savonlinna, is Finland's oldest tourist destination since the 19th century. Its location between East and West has created a unique way of life and culture, and its diverse and dazzling scenery has long drawn in visitors.
Bucket list today
Punkaharju Ridge, The oldest nature conservation area in Finland.
Visit Olavinlinna Castle, the crown jewel of Savonlinna.
Lake cruises are a big part of summer of Savonlinna and its surrounding areas. Try also theamed cruises, e.g. yoga, dinner, mushroom picking, seal watching.
>> Lake cruises on Lake Saimaa
Restaurant options:
>> Restaurant Manson, Punkaharju
>> Crepes Cafe Kalliolinna, Sulosaari island
>> Savonlinna Linnakrouvi Summer Restaurant, in the old town of Savonlinna
Accommodation options:
>> Spa Hotel Casino
>> Hotel Hospitz
>> Boutique Hotel Villa Aria
DAY 10 Imatra
The Ukonniemi area in Imatra is a perfect setting for a refreshing holiday. Go adventuring with your family in the activity parks. Check the beautiful hiking paths on the ridges by the lake or at the high-quality sports areas. Or swing the golf club while sunbathing.
Bucket list today
Pack your matches and hit the forests from the front door of your accommodation. You are located literally in the doorstep of your adventure. Inhale, exhale, feel yourself alive.
>> Nature trails and sights on the area
Discover Saimaa with an experienced outdoor guide, select your favorite activity.
>> Discover Saimaa
Book a private meal with Tuplakasi-Action guides at 'Hossukan Helmi' (The Pearl of Oasis) sauna premises. Enjoy the sauna and various activities.
>> Hossukan Helmi
Accommodation options:
>> Imatran Kylpylä Spa Resort and Holiday Apartments
>> Holiday Club Saimaa and Holiday Apartments
Restaurant option: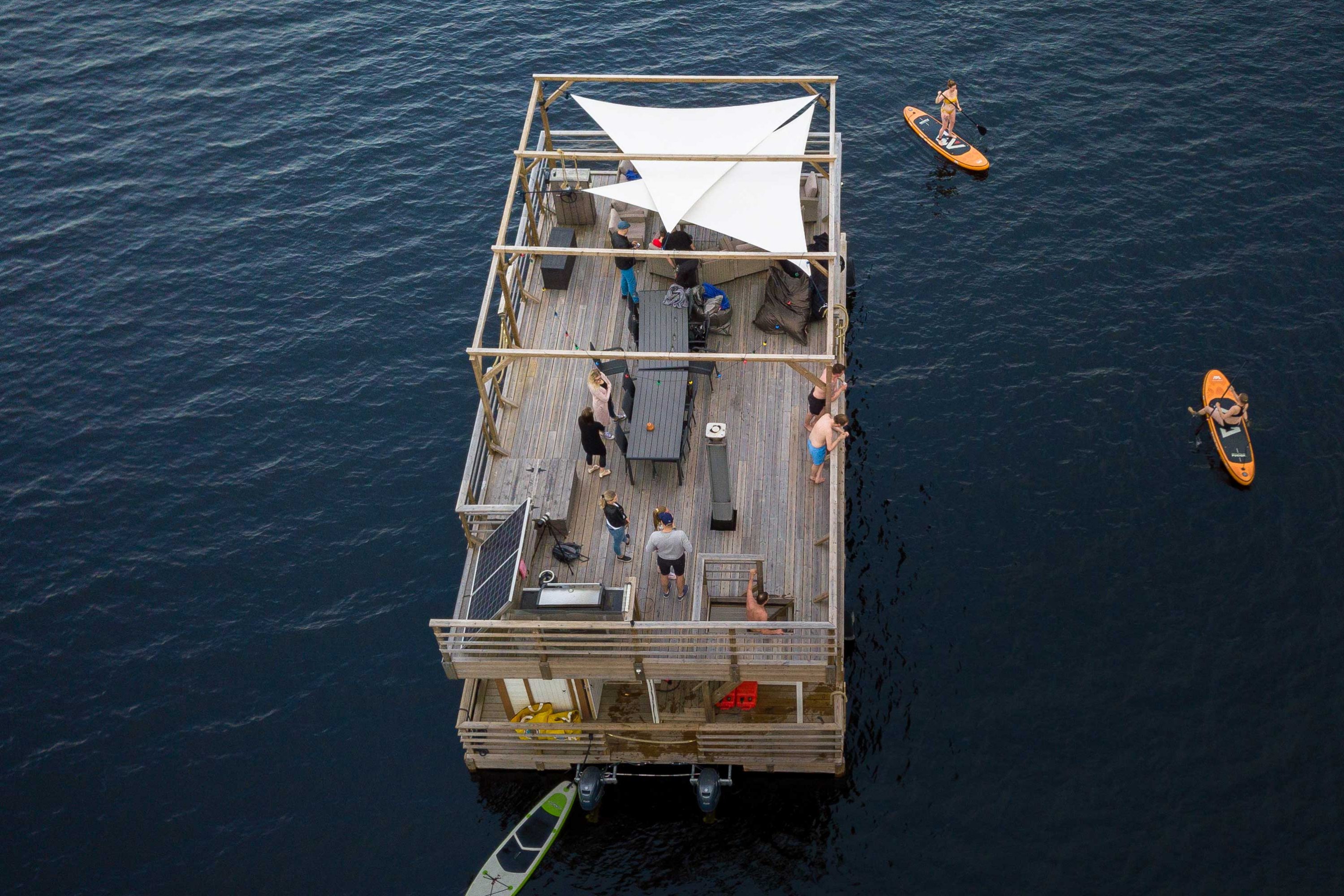 DAY 11 Imatra – Lappeenranta – Taipalsaari – Savitaipale – Anttola 157 km
Taipalsaari can be experienced on land and on water. As a starting point for the Saimaa archipelago cycling route, it doesn't lack landscapes. Further north, also Savitaipale on the shores of Lake Kuolimo offers paths and routes to explore whatever the vehicle.
Bucket list today
Let your eyes drink in the blue lake and its countless islands on a sauna boat cruise. Book your favorite activities on board. Take a bike or a canoe with you. Spend the whole day exploring.
>> The floating sauna Lappeenranta
Take a cruise to Lake Saimaa or to the first lock of the Saimaa Canal.
>> Karelia Lines
Hop on a normal or an electric bike, canoe, SUP or a rowing boat with an electric motor or without. All mentioned can be booked with Saimaa Naturally and Drakkar Sport, with instructions and if necessary, with a guide.
>> DRAKKARsport
Accommodation options:
>> Halla Resort
>> Ollinmäki winery
Restaurant options: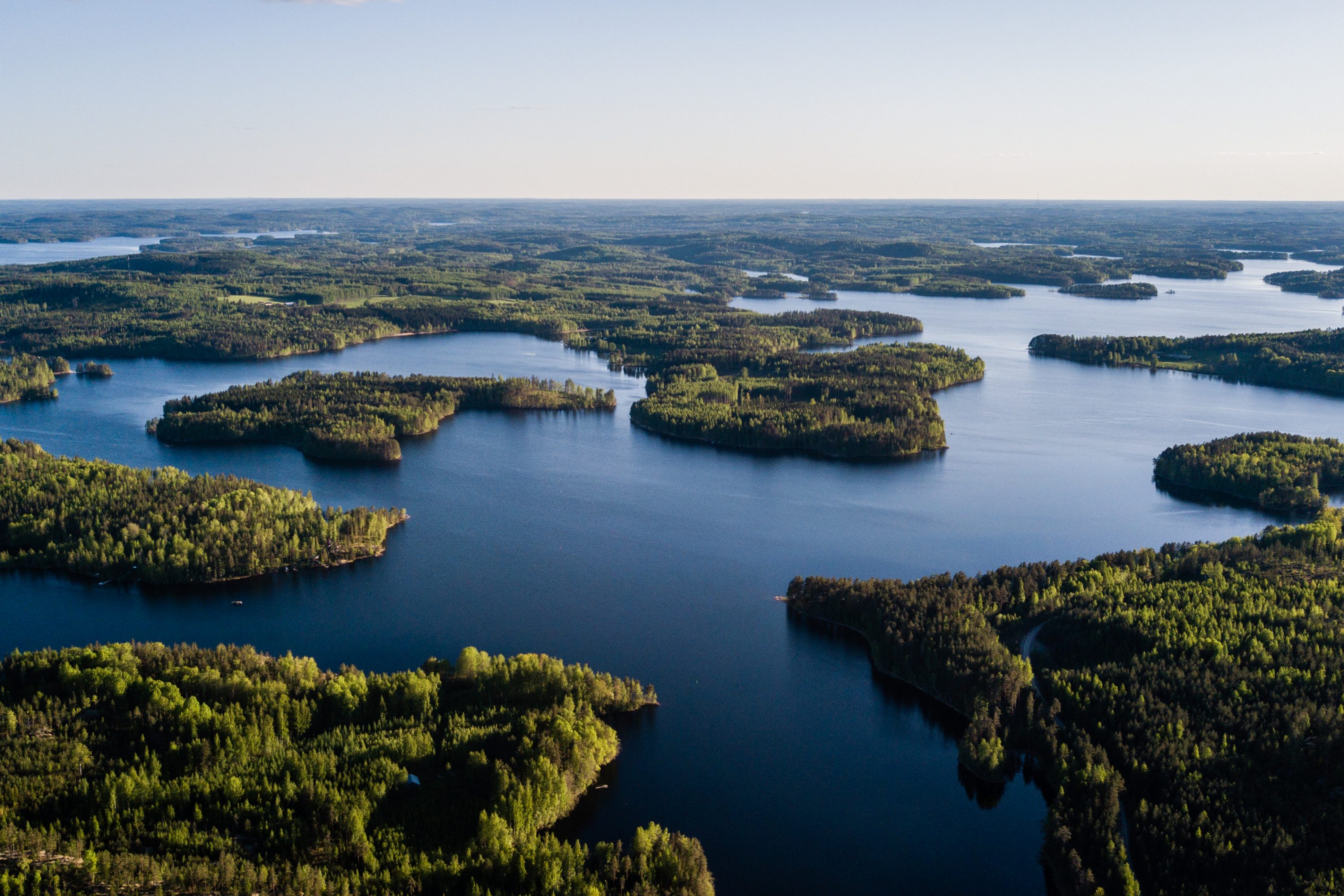 DAY 12 Anttola – Rantasalmi 101 km
Magnificent sceneries, good location by the Route 62 , diverse services and oppotunities for activities make Anttola a perfect place to spend a holiday. The best parts of nature and Lake Saimaa as well as services are available for everyone.
Bucket list today
Neitvuori peak in Anttola; The Hiidenmaa trails along the border between Mikkeli and Juva take you to the tallest peak in South Savo, Neitvuori, which offers a splendid view over the terrain around Luonteri.
>> Neitivuori Hill
Sightseeing cruise on Lake Saimaa with an electric Ecoboat is a unique experience! A friendly skipper tells you stories about the lakes while you enjoy the nature with all senses.
>> Ecoboat sightseeing cruises in Puumala
Accommodation options:
>> Hotel & Spa Resort Järvisydän
>> Kuru Private Resort
Restaurant option: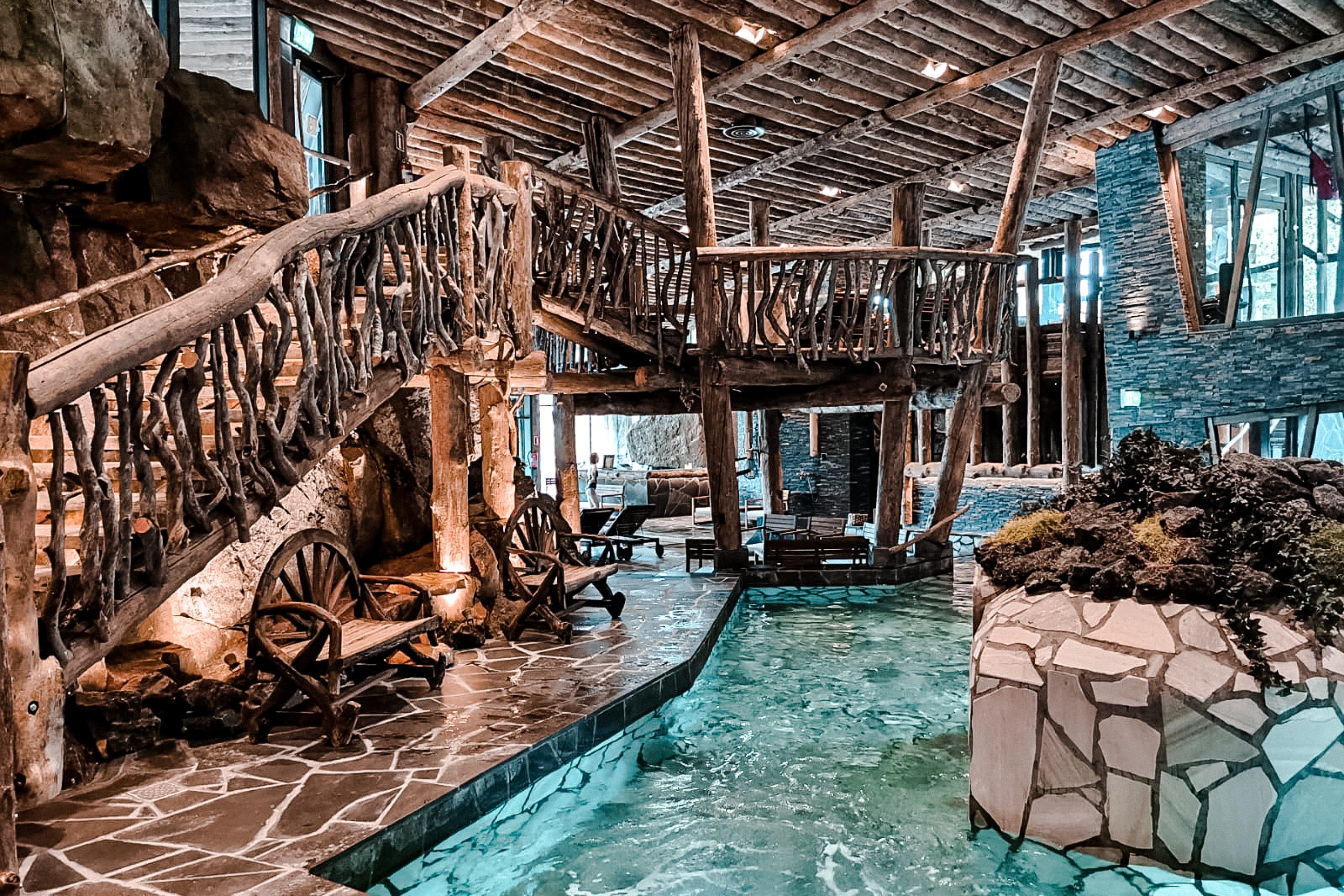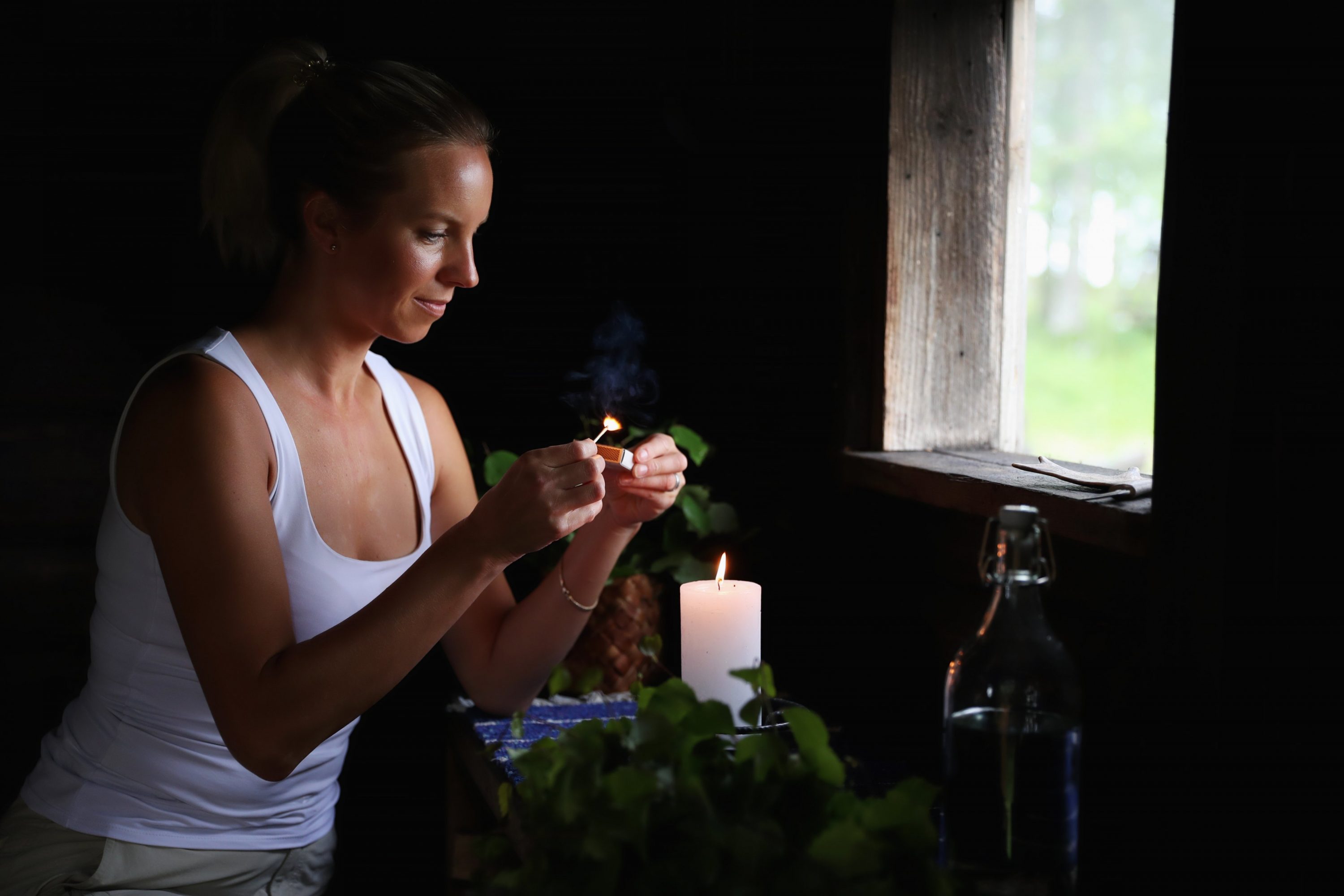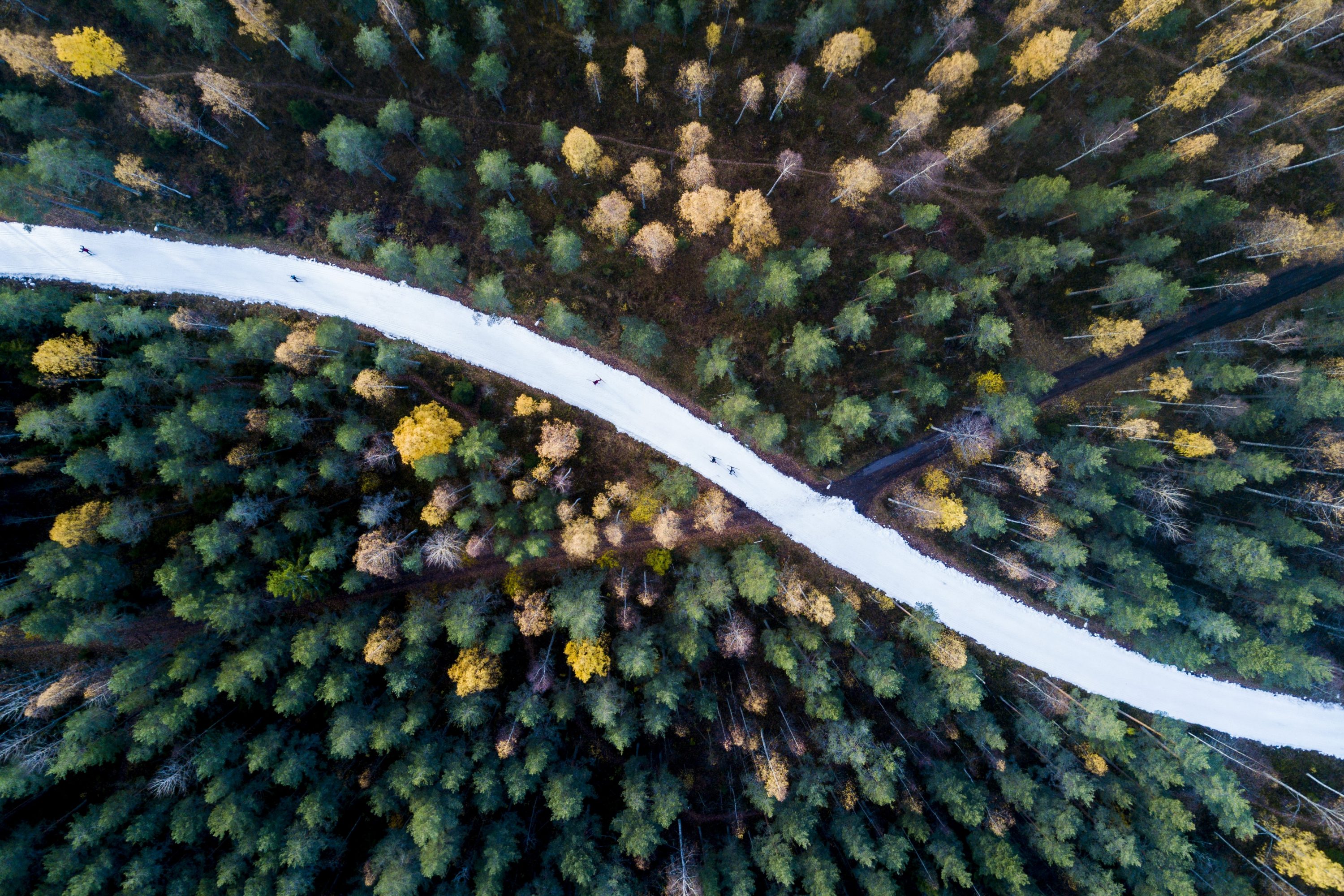 DAY 15 Kuopio
HOME JOURNEY
Fly to Helsinki (HEL). Drive from Kuopio 4,5 hours.
MORE INFORMATION FROM TEAM LAKELAND (REGIONAL DMOs)
Arctic Lakeland Kainuu, Hanna Linjala, hanna.linjala@kamk.fi
GoSaimaa, Katja Vehviläinen, katja.vehvilainen@gosaimaa.com
SavoGrow, Teija Neuvonen, teija.neuvonen@savogrow.fi
Savonlinna Travel, Tanja Lajunen, tanja@visitsavonlinna.fi
VisitKarelia, Leena Tervakorpi, leena.tervakorpi@visitkarelia.fi
Visit Mikkeli, Tarja Vesalainen, tarja.vesalainen@mikseimikkeli.fi
SALES AND BOOKING (DMC)
Finland Lakeland Tours, Anu Huusko, anu.huusko@lahtiregion.fi
NB! If you already cooperate with another DMC, feel free to send the program to them for price and booking.